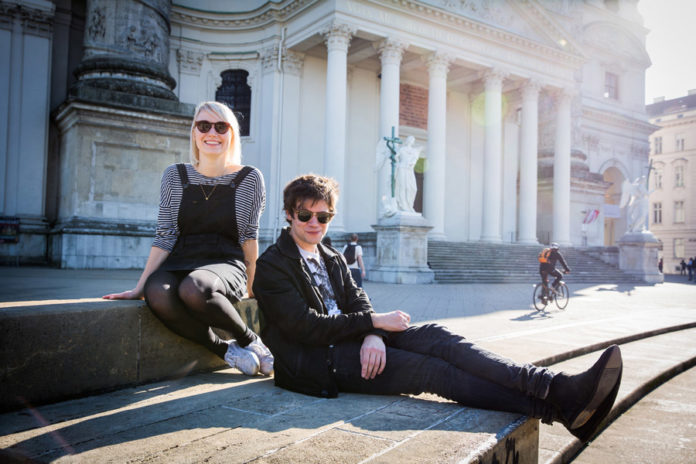 26.07. – 29.07.2018; Vienna.
Mavi Phoenix, Kreisky, Hearts Hearts, Naked Lunch, Lupin, Ran, … Austrian music that shall be seen and heard.
According to this years team of curators, "The Popfest is an offering. An attempt to seduce. A chance to discover." The team is formed by no-one else but the music journalist Katharina Seidler and Nino Mandl (Der Nino aus Wien). And they promise us: "It will get loud, it will get tender" – the No. 9 in the row fo the Popfest "pops up" and presents around 60 selected Austrian music projects, live and by free entry!
On Thursday Dives start on the Seebühne (lake stage) followed by Naked Lunch mit Special Guest Gustav and Mavi Phoenix. But the Popfest is not at all limited to this one stage. In total eleven venues are located around the Karlsplatz. From Thursday to Saturday, in-between the concerts at the Seebühne one can listen to six new and idiosyncratic beautiful pop-projects at the Red Bull Music Stage.
Already at the opening night the Wien Museum features with the singer-songwriter Lukas Antos, Monsterheart und Paul Plut grand and often dark feelings.
The historic Kuppelsaal (domed hall) of the Technischen Universität transforms into the stage for Hearts Hearts followed by David Schweighart. Keep in mind that this is merely an excerpt of what takes place in the opening night!
Friday continues with a pop-experiment handled as an insider tip: Sea Urchin and the great, shimmering machine-music of Jung an Tagen as well as Kreisky and Naked Cameo.
Popfest-Sessions at the Wien Museum will feature Saturday and Sunday talks, a Vinyl fair and Live Showcases.
On this years newly added venues, Theater Akzent and the Lyrik-Bühne (lyric-stage) in the Karlsgarten, artists such as Felix Kramer and the Wiener Beschwerdechor (the viennese chorus of complaints) will perform. Authors such as Verena Dürr, Clemens Denk and Stefanie Sargnagel also claim the stage.
The Lyrik-Bühne dedicates itself to one of the main emphasis in the program. The research of the interface between lyric and lyrics. Questions appear: how important is a word in a song, how much difference makes a different accentuation, melody and intonation, what happens, when one plays a chord to it, or when one sends a letter through a effect device?
The final of the Popfest takes by the way place in the holy halls of the baroque Karlskirche and brings exceptional solo-programs. Best is to simply browse through the program and let the variety of Austrian music that is worth listening to inspire one.
popfest Wien 2018
26. – 29.07.2018
Karlsplatz
www.popfest.at
Lageplan
Programm:
Do. 26.07.2018
16.00 | Stadtkino im Künstlerhaus | Weltrevolution (Film)
17.30 | Stadtkino im Künstlerhaus | Ois gangats um mei Lebn (Gespräch)
18.30 | Seebühne | Dives
19.30 | Red Bull Music Stage | Anger
20.00 | Seebühne | Naked Lunch – Special Guest: Gustav
21.00 | Wien Museum | Lukas Antos
21.30 | Red Bull Music Stage | Pressyes
22.00 | Seebühne | Mavi Phoenix
22.00 | Wien Museum | Monsterheart
22.00 | TU Prechtlsaal | Clemens Band Denk
22.00 | Heuer | Universal Beatnik DJ
22.00 | TU Kuppensaal | David Schweighart
23.00 | Wien Museum | Paul Plut
23.00 | TU Prechtlsaal | Schweiffels
23.30 | TU Kuppensaal | Hearts Hearts
00.00 | TU Prechtlsaal | Crush
01.00 | TU Prechtlsaal | Franz Fuexe
Fr. 27.07.2018
17.00 | Seebühne | Pauls Jets
18.30 | Seebühne | Ash my love & The Clapping Orchestra of Joy
19.30 | Red Bull Music Stage | Wanka (Schapka)
20.00 | Seebühne | Kreisky
21.30 | Red Bull Music Stage | Naked Cameo
22.00 | Seebühne | Aivery
22.00 | TU Kuppensaal | Sea Urchin
22.00 | Heuer | Sirius & Darktunes DJ
23.00 | TU Prechtlsaal | Tony Renaissance
23.00 | Club Roxy | Femme Dmsisters Special
23.30 | TU Kuppensaal | Jung an Tagen
00.00 | TU Prechtlsaal | AliceD
01.00 | TU Prechtlsaal | Monophobe
02.00 | TU Prechtlsaal | Mala Herba

Sa. 28.07.2018
11.00 – 18.00 | Wien Museum | Wiener Label- und Vinylmarkt
13.00 | Wien Museum | Talk 1: Musikmanagement – Star Maker oder Dienstleister?
14.00 | Wien Museum | Lupin
15.00 | Wien Museum | Talk 2: Indie Goes Schlager
16.00 | Wien Museum | Tony Wegas
17.00 | Seebühne | pauT
18.30 | Seebühne | Kroko Jack
19.30 | Red Bull Music Stage | Kahlenberg
20.00 | Seebühne | Kreiml & Samurai
21.00 | Theater Akzent | Felix Kramer
21.30 | Red Bull Music Stage | Love Good Fail
22.00 | Seebühne | Esrap
22.00 | Club Roxy | Duzz Down San Night
22.00 | Heuer | DJ Daaliyah & Snekboi
22.30 | Theater Akzent | Alicia Edelweiss
23.00 | TU Prechtlsaal | Sir Tralala
00.00 | TU Prechtlsaal | Snoww Crystal
01.00 | TU Prechtlsaal | Ran
02.00 | TU Prechtlsaal | Melt Downer
02.00 | TU Prechtlsaal | Überraschungskonzert
So. 29.07.2018
12.00 – 18.00 | Wien Museum | Wiener Label- und Vinylmarkt
12.00 | Wien Museum | Talk 3: Nenn mir deinen Preis
13.00 | Wien Museum | Alex Miksch Trio
14.00 | Wien Museum | Talk 4: Der Superfan
15.00 | Wien Museum | Talk 5: Ich spiele leben (Gesprächsrunde in memoriam Hansi Lang)
16.00 | Wien Museum | Hansi Lang Tribut feat. Wickerl Adam & Friends
17.00 | Karlsgarten | Wiener Beschwerdechor
18.00 | Karlsgarten | Lyrics: Lyrik Verena Dürr, Thomas Frechberger, Natalie Ofenböck, Stefanie Sargnagel, Clemens Denk
19.30 | Karlsgarten | Okma, Christian Polster & Relups (empowered by pro21)
20.30 | Karlskirche | Lukas Lauermann
21.30 | Karlskirche | Farce
22.30 | Karlskirche | Battle-Ax
23.00 | Karlskirche | Andreas Spechtl