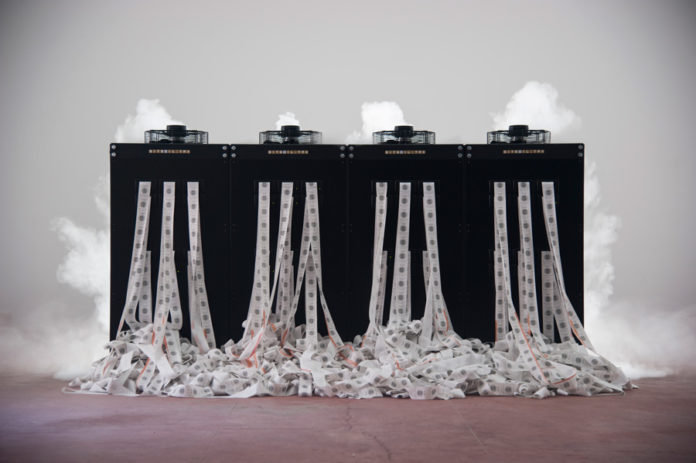 06.09. – 10.09.2018; Linz.
Award-winning projects of various media art projects & artist talks at the CyberArts exhibition.
Exhibition CyberArts showcases outstanding media art submitted for Prix Ars Electronica. The winning projects won't only be exhibited, but can also be discussed with the artists in the Prix Forums. The LarbitsSisters' project "BitSoil Popup Tax & Hack Campaign", which was awarded the Golden Nica, is one example of these works.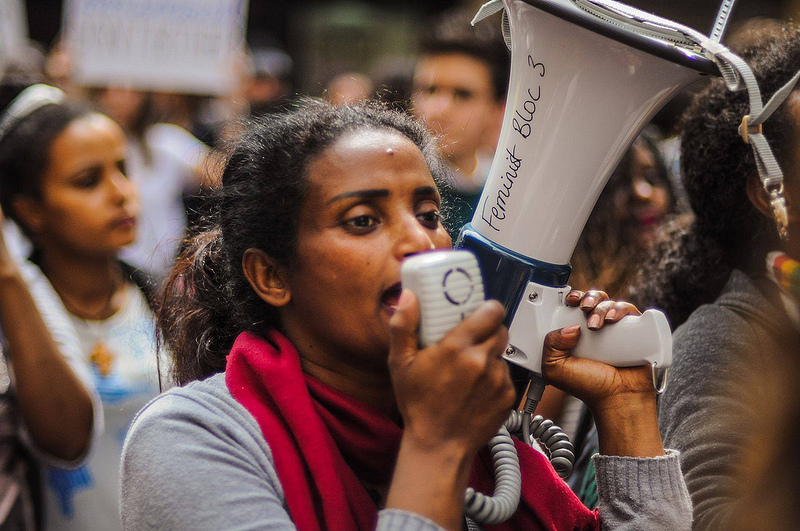 Ars Electronica Festival
06.09. – 10.09.2018
Ars-Electronica-Straße 1
4040 Linz
www.aec.at/prix/de
Jury members talking about Digital Communities:
The Winner
Computer Animation
Goldene Nica | Mathilda Lavenne (FR): TROPICS
Award | Hayoun Kwon (KR): 489 Years
Award | Boris Labbé (FR): La Chute / The Fall
Reconitions:
An Excavation of Us / Shirley Bruno (US/HT)
Descent / Peter Burr (US), Mark Fingerhut (US), and Forma (US)
Flesh Nest / Andrew Thomas Huang (US)
Ghost in the Shell Reel / Ash Thorp (US)
Impossible Figures and Other Stories II / Marta Pajek (PL)
LOVE / Réka Bucsi (HU)
Norman / James Paterson (CA)
Pussy / Renata Gąsiorowska (PL)
Quantum Fluctuations / Markos Kay (CY/UK)
Rediscovery of anima / Akinori Goto (JP)
The Full Story / Daisy Jacobs (UK)
Western Flag (Spindletop, Texas) 2017 / John Gerrard (IE)
Digital Communities
Goldene Nica | Bellingcat
Award | Anti-Racism Movement (ARM)
Award | g0v.tw
Reconitions:
858 Archive: The Mosireen Media Collective
Aboriginal Territories in Cyberspace (AbTeC)
Arab Digital Expression Foundation – ADEF
Digua Community (Sweet Potato Community)
EHRI Online Portal
The Institute of Network Cultures (INC)
MuckRock
p5.js
PetaBencana.id
Queering the Map
Radio Garden
TIC-as Centroamérica
Interactive Art +
Goldene Nica | LarbitsSisters (BE): BitSoil Popup Tax & Hack Campaign
Award | Kohei Ogawa (JP), Itsuki Doi (JP), Takashi Ikegami (JP), and Hiroshi Ishiguro (JP): Alter
Award | Mary Flanagan (US): [help me know the truth]
Reconitions:
AI DJ Project —  A dialog between human and AI through music / Nao Tokui, Shoya Dozono / Qosmo
Conspiracy: Conjoining the Virtual / Kristin McWharter (US)
Digital Shaman Project / Etsuko Ichihara (JP)
ECHO / Georgie Pinn (Electric Puppet) (UK/AU), Kendyl Rossi CA/AU)
ELECTRONICOS FANTASTICOS! / Ei Wada (JP) + Nicos Orchest-Lab (JP)
Institute of Human Obsolescence / Manuel Beltrán (ES)
Monitor Man / Yassine Khaled (MA/FI)
Mother of Machine / Sarah Petkus (US)
Poppy Interactive – War and Organized Crime Gone Global / Antoinette de Jong (NL) & Robert Knoth (NL)
Positions of the Unknown / Quadrature (DE)
The Other in You / Richi Owaki (JP), Yamaguchi Center for Arts and Media [YCAM]
Turnstile / Ursula Damm (DE)
u19 – CREATE YOUR WORLD
Goldene Nica | Lorenz Gonsa, Martin Hatler, Samuel Stallybrass, Vincent Thierry / Five Hours of Sleep (alle AT): Levers & Buttons
Award | SchülerInnen der HTBLVA Ortweinschule (alle AT): //movingshapes;
Award | Christoph Amon, Christian Janßen, Florian Kristof, David Stadlmann (alle AT): Smart CUP
Reconitions:
Das Schallkraftwerk / Jakob Ammerer, Patrick Blagojevic, Jakob Gerlitz, Benita Stampfer, Florian Steiner, Aida Suljic
FotoFlex / Boris Cergic, Valentin Rezsnyak
Generation Y / Sonja Groiss, Anna Kaufmann
Good night, Mary / Susanne Weissenböck
Icarus_thegame / Antonia Beck, Nora Erös, Tobias Gruber, Clemens Makoschitz, Tobias Micko, Sebastian Schreibmaier
Maladidea / Clemens Grossberger, Isabella Hundstorfer, Markus Petzke, Dominik Schicketanz, Tobias Teichmann, Thomas Übellacker
NO FACE EMOJI / Alex Lazarov
Pounding Heart / Yasmin Litschauer, Chiara Mazanec, Aisling Pircher, Laura Scheidl, Johannes Zottele
schuldICH? / Gregor Franz, Lara Rabitsch, Johannes Rass, Julian Schmiederer
Solares Kühlen für Nicaragua / Cornelia Lobmeier, Andreas Sigl, Verena Wolfsöldner
u10-Preis | 1. und 2. Klasse der VS Kindermanngasse (alle AT): Max in Gefahr
u14-Preis | Leon Haberleithner (AT): Rise to the Future
netidee Spezialpreis 2018 | Samuel Daurer, Ämilian Mayrhofer (beide AT): out of tune
Visionary Pioneers of Media Art
Goldene Nica | Leonardo/ISAST