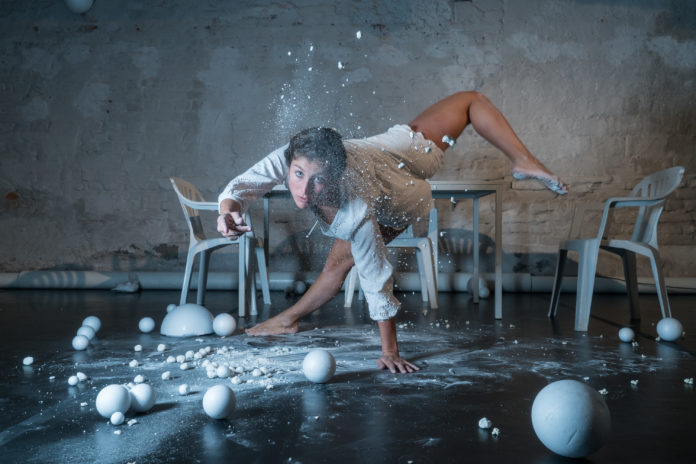 09.03.2019 – 07.06.2019: Bregenz
A body does not just move while dancing.It speaks, calls, laughs, curses, cries, there is communicating. The program of the Dance Festival Bregenz Spring shows the limitless communication possibilities to which a body opens through dance.
Dancing is connection. Borders disappear, resonances vibrate in the movement, and the horizon expands. In line with this, the Dance Festival "Bregenz Spring"  has a variety of performances in the program that enrich, motivate and drive in their diversity.
The Bregenz Spring will be opened by Ina Christel Johannessen with "Frozen Songs". In a multi-media staging, the artist devotes herself to the apocalypse with her dancers. Inspired by the actual plant seed bank in the Spitsbergen in Norway, this becomes the center of the piece. A kind of insurance for the disaster is about to tell a dance story around the downfall of humanity. What remains, is humanity to be saved, is there hope? The guiding principle is the survival of humanity and the question of hope at the end of an apocalypse.
Philippe Decouflè's piece "Nouvelles Pièces Courtes" is a series of small choreographies that correspond to the current contemporary tradition. The National Dance Company Wales presents three works, including the play "Tundra" by Marcos Murau, the love song "They seek to find the happiness of seagulls" by Lee Johnston and "Folk" by Caroline Finn, before the company Cage with "Pixel" kidnapped in the digital cosmos.
The "action theater esemble" feels with the world premiere of "How To Go" by Martin Gruber deep yearnings such as its own lewdness, laziness, greed and ignorance. Furthermore, the Vorarlberg dancer and choreographer Silvia Satzmann has created a children's dance piece titled "Übergenug" with the youngest talents from the age of four and shows it in public children's performances.
Natalie Fend takes contemporary dance into public space, penetrating into foreign places, squares and streets with her "City Dance Performance".
09.03.2019 – 07.06.2019
Festspielhaus Bregenz
Platz der Wiener Symphoniker 1
6900 Bregenz
www.bregenzerfruehling.com
PROGRAMM:
"Frozen Songs" Zero Visibility Corp.; 09.03.2019
"Everyness" Compagnie Wang Ramirez; 05.04.2019
"Pixel" Compagnie Käfig; 25.05.2019
"New Piece" Francesca Harper; 17.05. & 18.05.2019
"Nouvelles Piéces Courtes" Compagnie DCA/ Philippe Decoufle, 23.03.2019
"Tundra" "They seek to find the happiness" "Folk" National Dance Company Wales, 11.05.2019
"Über(ge)nug" Silvia Salzmann; 14.04.2019
"Stadt-Tanz-Performance" Natalie Fend & Florian Willeitner; 19.05., 26.05. & 30.05.2019
"Wie geht´s weiter" aktionstheater ensemble; 04.06., 05.06., 06.06. & 07.06.2019