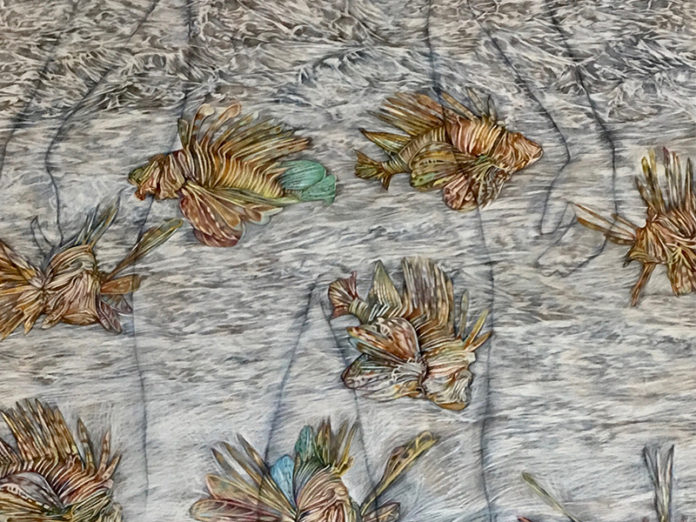 08.03.2019 – 27.04.2019; Vorarlberg
The illusive world of beauty and idyll. Birgit Bachmann's works exhibited in the Galerie allerArt in Bludenz.
At first glance, Birgit Bachmann's large-scale pencil and crayon drawings radiate a poetic lightness. Only a closer look reveals the world behind it. The artist, who lives in Carinthia, often draws her inspiration from the world of flora and fauna. Bees and birds, flowers and trees convey a world of idyll and beauty, while there is often a dark story hidden in it. Outlines of a body on the seabed, surrounded by colourful fish, can be seen, for example, in her work "Waterboarding" – a reference to a cruel method of torture. At first glance, her works seem lovely, delicate and simple, but at second glance they are intended to cause irritation. The Galerie allerArt in Bludenz primarily exhibits works from the last one and a half years.
Birgit Bachmann
Born in East Tyrol in 1966, the artist studied at the Vienna Academy under Arnulf Rainer. Numerous exhibitions followed worldwide, among others in Central America, Europe and India. "I don't like being bored with myself", says Bachmann in an ORF interview. She likes to approach new topics, which takes time and attention to new media. Thus, in addition to her drawings and paintings, she also creates entire room installations from pencil drawings, wooden works or painted leather furniture.
Birgit Bachmann
08.03. – 27.04.2019
Galerie allerArt
Remise
Am Raiffeisenplatz 1
6700 Bludenz
allerart-bludenz.at