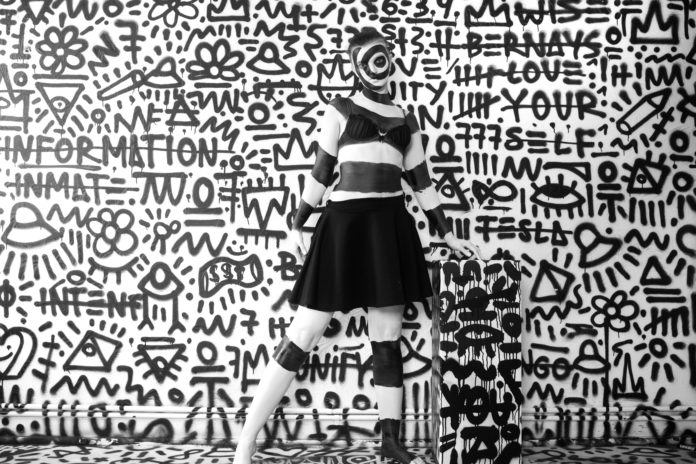 Strong contrasts. Young art from Vorarlberg.
Making young art visible in public spaces – that is the intention of the Young Art Generation, which will take place again this year at Kornmarktplatz in Bregenz. Project manager Alexander Kramer sees the tasks of the project as overcoming reservations and creating access. "We not only want to offer young artists a platform and exhibition opportunities, but also to create networks. The Young Art Generation sees itself as a mediator between cultural institutions and young creative people and aspires to break down the boundaries between the subculture of youth and the high culture of art."
Artists under the age of 23 have the opportunity to submit their projects in the fields of music, fashion literature, dance, theatre, and visual arts. Around 20 selected artworks and talents will be presented.
Domingo Mattle is one of the young artists who are on the cusp of finding their path. He feels at home in the hip-hop scene: noticeable not only in his enthusiasm for breakdancing, but also in his graffiti. With his sprayed and painted canvases, the artist from Hohenems is represented at exhibitions all over the world, from Los Angeles to Toronto to Hong Kong.
Media designer and caricaturist Timon Lutz's work is inspired by faces. In his pencil and ink drawings as well as acrylic and watercolour paintings he expresses unfiltered emotions and the joy of diversity.
Zaker Soltani's art has a special background: in 2012, the then 15-year-old emigrated from Afghanistan to Vorarlberg and has since been enrolled in the undergraduate Art History programme at the University of Vienna. "Everyone should have access to art and art should be possible for everyone," says the young artist. With projects in public spaces, such as the community portrait "we", and an exhibition titled "Tolerance", he addresses the issues of migration and coexistence in a multicultural society.
Often, young people are still searching for expression and their own stylistic identities. Here the Young Art Generation wants to be a pillar of support and promote existing talents. What are they looking for? "For a balance between young perspectives and topics, creativity, expressiveness, and personal style."
The association KunstVorarlberg is also dedicated to supporting young creative people. Florian Gerer of the association believes that the elitist ideas of art and culture must be dismantled in order to make it easier for young artists to gain access. "If we put in the effort, then art will again be a form of expressing grievances, presenting beautiful things, and bringing people together."
Young Art in Vorarlberg
Young Art Generation at Kornmarktplatz
22.06.2019
Kornmarktplatz Bregenz
www.jugend.bregenz.at/service/youngart-generation
Young Art Generation Exhibition
28.06. – 12.07.2019
Magazin 4
Bergmannstraße 6
6900 Bregenz
www.bregenz.gv.at/kultur/magazin-4/
Domingo Mattle
www.urban-art.biz
Timon Lutz
www.timonlutz.com
KunstVorarlberg
www.kunstvorarlberg.at/category/jungekunst/