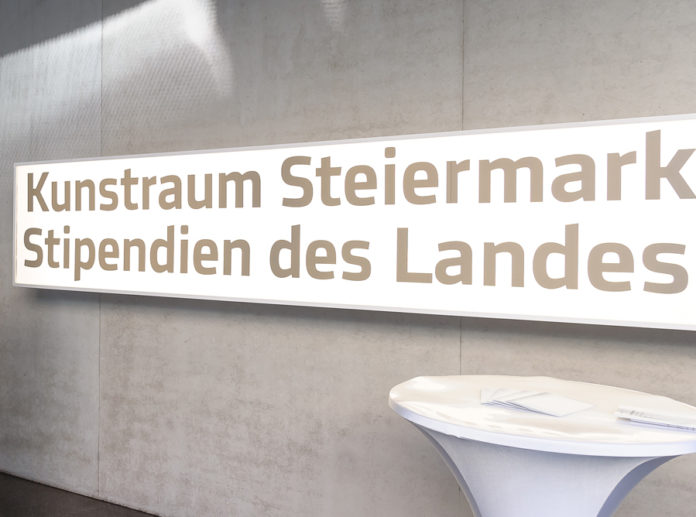 14.12.2019 – 12.01.2020; Graz.
National as well as international produced works of Styrian artists.
The Cultural Department of the Province of Styria maintains a number of different studio programmes and scholarships for Styrian artists which enable them to travel abroad or encourage them to set up studios in Styria.
This exhibition at the Neue Galerie Graz shows the different artistic positions with works created in the period 2018/19.
Art Space Styria 2019
Opening: 13.12.2019 | 19.00
Exhibition: 14.12.2019 – 12.01.2020
Neue Galerie Graz
Joanneumsviertel, Zugang Kalchberggasse
8010 Graz
www.museum-joanneum.at
Scholarship for International Studio of Land Steiermark: Günter Eichberger, Anaïs Horn, Ulrike Königshofer, Bettina Landl, Nina Schuiki, Florian Sorgo
International film scholarship of Land Steiermark: Peter Kutin, Sandra Wollner
"Artist-in-Europe Scholarship": Maryam Mohammadi
Art Space Styria: Frauke Bittner, Matthias Ludwig Bürger-Mader, Das Planetenparty Prinzip (Alexander Benke, Leonie Bramberger, Victoria Fux, Nora Köhler, Moritz Ostanek, Miriam Schmid, Alexandra Schmidt, David Valentek, Nora Winkler), GUKUBI (Martin Guevara Kunerth, Tom Biela), Raffael Jessner (with Adna Babahmetovic, Adnan Babahmetovic, Anja Babahmetovic, Carlotta Bonura, Luisa Jäger, Gabriel Schmidt, Klara Schmidt, Philipp Strohmeier, Katharina Sieghartsleitner, Katharina Wraubek, Johann Zuschnegg), Alfred Lenz, Christina Helena Romirer, Emiliano Sampaio (with Thilo Seevers, Luka Sulzer, Jonatan Sarikoski), Michaela Schweighofer, Christoph Walter Solstreif-Pirker.