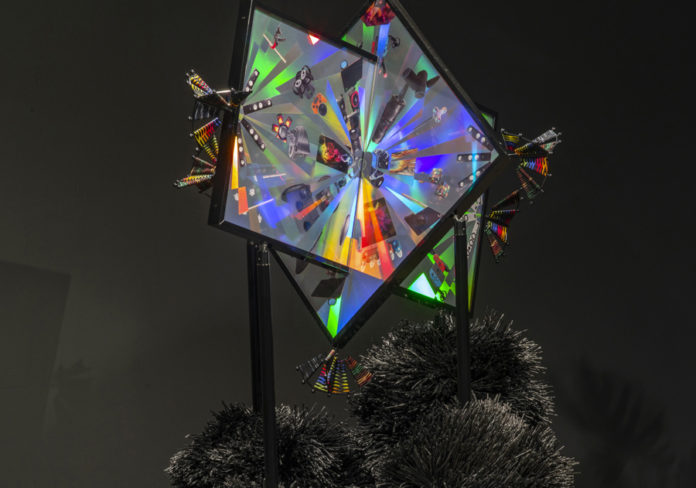 14.11.2019 – 01.03.2020; Graz.
Between Politics and Digitalisation.
This exhibition showcases the artists' interest in old handcraft methods and production techniques, in experimenting with materials and techniques, and also in arts and crafts.
Recent years have seen a marked increase in interest among contemporary artists in materials, in (arts-and-)craft methods, and in experimenting with materials and techniques. These works reference arts-and-crafts, folk and artistic traditions, while at the same time relating to contemporary and technological discourses. The way they handle premodern/traditional/local knowledge, materials and processes does not seek to isolate them, instead it opens them up – towards other cultures, towards modern and contemporary art, to current discourses and digital developments.
Culture is understood as a flow of diverse influences and elements, which are fed synchronously and diachronically, and are intertwined; a process in which local forms of knowledge and global knowledge transfer are interwoven. The importance and appreciation of craft as an essential component of material culture and cultural identity, and above all the community-creating potential of arts-and-craft traditions, are associated with social and economic conditions in a globalised world. This approach means that artists also challenge – almost as a by-product – current political instrumentalisations of homeland, nation, folk art and tradition. The works show just how much local identifications and global developments have been telescoped together for a long time now. They go beyond this, however, to ask – without any sense of romanticisation – how, under the current economic conditions, it could still be possible to imagine and implement an "artisanal" relationship between those working and the objects of their work. This approach not only goes beyond cultural boundaries but also creates a connection between analogue and digital worlds. It even seems  – according to the hypothesis – that the globalised view is raising awareness of the particular qualities of craft and the potential loss of old and local knowledge.
With: Azra Akšamija, Plamen Dejanoff, Olaf Holzapfel, Jorge Pardo, Slavs and Tatars, Haegue Yang, Johannes Schweiger
Kunst_Handwerk. Zwischen Politik und Digitalisierung.
Opening: 14.11.2019 | 19.00
Exhibition: 15.11.2019 – 01.03.2020
Kunsthaus Graz
Lendkai 1
8020 Graz
www.museum-joanneum.at