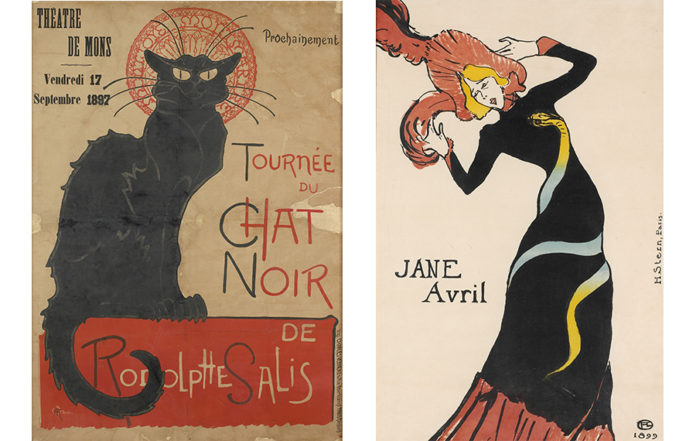 16.10.2019 – 19.01.2020, Linz.
Toulouse-Lautrec and the masters of Montmartre.
The exhibition at the Landesgalerie Linz presents the entire lithographic poster work of Toulouse-Lautrec in juxtaposition with works by his predecessors and contemporaries, such as Alfons Mucha, Théophile-Alexandre Steinlen, Pierre Bonnard and Felix Vallotton. The selection of works comprises six thematic areas, including "Chanson & Cancan", "Circus & Cabaret", "Theatre & Opera", "Kokotten & Kurtisanen". The poster designs convey the attitude to life of the time and carry visitors away into the atmosphere of the Belle Époque at the turn of the century.
In addition, the exhibition introduces visitors to the roots of today's mass media: in Toulouse-Lautrec's works and those of his companions, prints are used for the first time as an elementary medium for the dissemination of information and thus as an independent art form. Another special feature of the exhibition is the complete presentation of the original lithographs of Toulouse-Lautrec's poster work, which is available in this complete form in only two museum collections in Europe.
To mark the tenth anniversary of the Linz Capital of Culture and following the great success of the exhibition "Toulouse-Lautrec: The intimate gaze" in 2009, the Landesgalerie Linz presents the artist's poster work as an extraordinary facet of his work, which made him and his contemporaries pioneers of modern visual communication.
LA BOHÈME. Toulouse-Lautrec und die Meister vom Montmartre
Opening: 16.10.2019 | 19.00
Duration of exhibition: 17.10.2019 – 19.01.2019
Landesgalerie Linz
Museumstraße 14
4010 Linz
www.landesmuseum.at