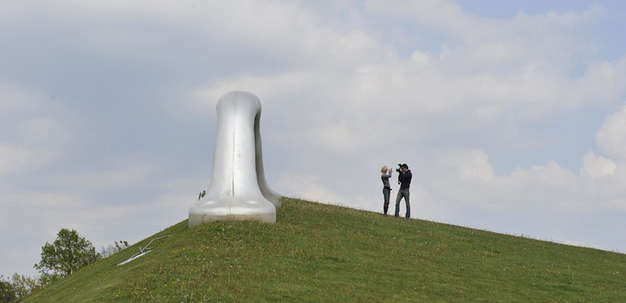 REOPENING: 18.05.2020 to 31.10.2020, Österreichischer Skulpturenpark. 


The Österreichische Skulpturenpark in Graz / Premstätten has over 70 sculptures. Seven hectares offer space for impressive works by Fritz Wotruba, Franz West, Nancy Rubins or Susana Solano. National and international sculpture and sculptures go hand in hand here, Erwin Wurm meets Jeppe Hein or Tobias Rehberger.
The garden enters into a unique relationship with the sculptures, a trialogue is created between object, nature and viewer. Since its foundation in 2003, the sculpture park in Premstätten, which is only 7 km away, has been a magnet for Graz residents and visitors from Graz, as well as for visitors from home and abroad. The park also offers garden lovers special highlights, such as the lotus flowers. On a specially created water area, these bloom in full splendour for just a few weeks at the beginning of July every year.
The park awaits its visitors with a comprehensive supporting programme, whether guided tours under a full moon, children's programme or picnic, there is a suitable offer for every taste and every request.
In addition to the artists mentioned above, there are works by Marianne Maderna, Lois Weinberger, Sabina Hörtner, Othmar Krenn, Bruno Gironcoli, Yoko Ono and Hans Kupelwieser, among others.
In addition, the Austrian Sculpture Park annually invites national and international artists and art classes to enter into dialogue with the special conditions of the Sculpture Park and to develop works.
For the 2020 Artist-in-Residence Programme, students from the Sculpture – transmedial Space Department of the University of Art and Design Linz, under the direction of Ali Janka and Tobias Urban (Gelitin Artist Group), have been recruited.


Österreichischer Skulpturenpark
17.05.2020 bis 31.10.2020
Österreichischer Skulpturenpark
Thalerhofstr. 85
8141 Premstätten
www.museum-joanneum.at