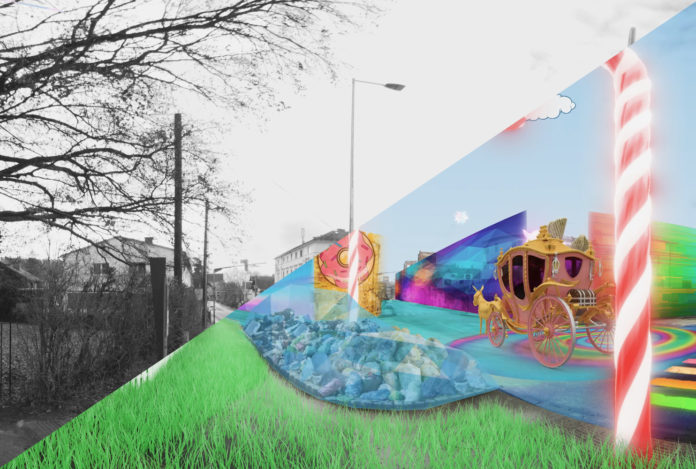 01.01. – 31.03.2021.
"Dystoptimal" is a smartphone app that shows a dystopian future of Graz on the screen and encourages citizens and visitors to rediscover the city. The app creates a deliberately dystopian reality that can be experienced immersively at certain points in the city. A dystopian parallel world covers the real world. The 3D renderings are animated and move along with the physical panning of the user. The style of the renderings is based on "Blade Runner" and "Brazil" and is deepened accordingly by appropriate sound design. The project aims to raise awareness for the quality of life and aesthetics of the urban environment.
The app user is transported into a virtual 360-degree scenario superimposed on the real urban topography. The animated scenes are provided with geographical markers that allow the app user's movements to be taken into account as well.
In addition, a special sound design was developed for which the producer of the Icelandic singer Björk – Valgeir Siguardsson – and Manu Mayr, from the Austrian avant-garde band 5K HD & Kompost 3, could be won.
Which topics will determine our future? That's what this app asks. What will the world look like in 30, 70 or even 100 years? The artist The Quiet Now has developed different scenarios for the cultural year 2020 and played on various themes. Starting from already existing themes, these were spun into extreme scenarios that now manifest themselves as a 360-degree experience. At 17 marked places in Graz, you can experience dystopian landscapes and places on your smartphone.
The worlds of experience are quite different. For example, there is a scenario of hyperconsumerism, which the developers have set in the 6th district of Jakomini in Graz in the year 2029 and which refers to excessive consumption and the associated problems. The 14th district, Eggenberg, has mutated into a kind of desert, as it can be assumed that devastation can realistically reach our latitudes due to rising temperatures. Meanwhile, having arrived in the year 2066, the 5th district, Gries, has developed into a kind of melee zone, which, due to its socio-economic situation, must be militantly demarcated from so-called "happy zones".
Dystoptimal
01.07. – 31.12.2020
01.01. – 01.03.2021
Grazer Stadtraum
www.kulturjahr2020.at