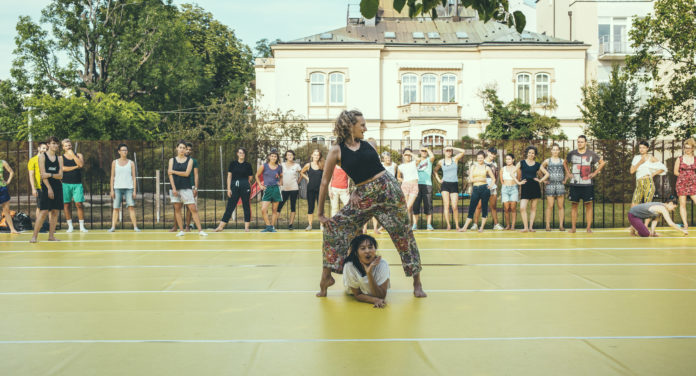 09.07.-30.08.2020


A side effect of the Corona crisis on cultural work is that the public and social space is once again becoming more central. Whereas in "normal" times a substantial part of cultural events takes place in closed event spaces or narrowly defined "event zones", many organizers are now moving their programs and projects into public space in the various districts of the city. Two examples in Vienna are the Donauinselfest and the ImPulsTanz-Festival, which have completely transformed their programme concepts and are now "popping up" with their events and workshops at the most diverse locations in the city.
With revitalising and positive effects on district cultural work, but also with the expectable result that through these events, population groups come into contact with cultural projects that would otherwise perhaps never have dealt with these offers.
An interesting side effect: the requirement to keep distance creates a new proximity between cultural providers and the people who live in an urban district and who, purely by chance, also have the opportunity to come into contact with the cultural offers.
Social Distancing is also of great importance in the Public Moves Workshops of the ImPulsTanz-Festival. In Georg Blaschke's workshop, improvisation is performed with imaginary partners, Simon Mayer calls for social (dis)dancing, Cornelia Scheuer searches for new forms of intensive encounters without touching in her All-Abilities workshop, and Doris Uhlich, together with DJ Boris Kopeinig, exudes energy at a distance. With an extensive program, the 296 workshops animate seven public locations in Vienna and provide insights into a wide variety of dance styles, from ballet and body- work to jazz and hip hop, voguing and yoga. In order to guarantee sufficient distance between the dancers, 16 square metres of movement radius per person are marked on both the grass and dance floors.
Festival in the Grätzl
Under the motto "Whole Vienna", the Donauinselfest is expanding its venue and will be taking an 80-day summer tour through all of Vienna's districts. As a festival on four wheels, the #dif20 summer tour stops at squares, markets and parks and brings concerts, readings and cabaret from Austria in pop-up format directly to the Viennese people. "After the experience of the first few days and in coordination with our COVID-19 advisory board, we can now announce on Fridays not only the acts for the next few days, but also the specific days and districts in which we will be travelling," says Donauinselfest manager Thomas Waldner. This year the festival is relying 100 percent on acts from Austria, such as Viech, Thorsteinn Einarsson or DELADAP. The grand finale of the tour will take place on 19 and 20 September on the Donauinsel with a limited number of visitors.
The events taking place in public spaces and the free offer help to overcome barriers and reduce fear of contact with cultural projects. Free access to art and culture, which is particularly important in times like these.

Public Moves
Workshop-Reihe des ImPulsTanz-Festivals
09.07-30.08.2020 
Various locations 
www.impulstanz.com
#dif20 Sommertour
01.07 – 20.09.2020
Various locations
www.donauinselfest.at