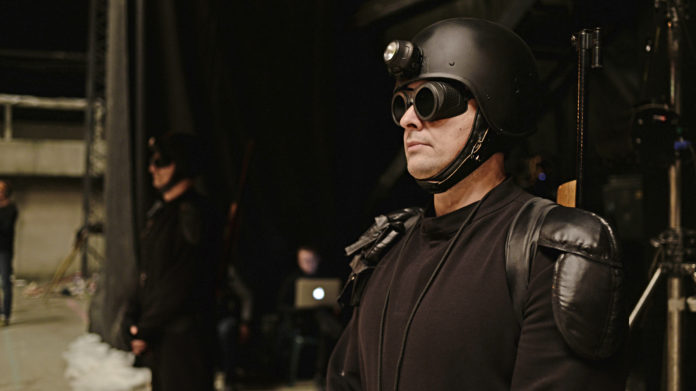 Enough with the zeroes. The latest film by Ukrainian director Oleg Sentsov, which will be presented in the main program of this year's Viennale Filmfestival, tells an allegorical story of totalitarianism. In NOMERY, ten numbered figures are subject to the strict and senseless rules of a regime that leads to the elimination of all autonomy. An absurd and strict dysto- pian society is suddenly disrupted when its leader, the so called "Great Zero", is overthrown.
As always, the cinema questions itself about its own history and political situation, and it does so with different concepts and approaches – narrative, descriptive or observational, sometimes sarcastic, sometimes from a distinguished distance. With a program of current feature films, monographs and cinematographies, the Viennale invites audiences to five new festival locations in Vienna.
In addition to the presentation of current film works from all over the world, new programme slot for Austrian film will be introduced to the festival. The relationship between proximity and distance has a special place in this year's film program, not least in regard to the current situation. INTIMATE DISTANCES by British director Philip Warnell is an example. The Film deals with the distance and anonymity in big cities The film accompanies a woman in the streets of New York while she casts strange men for a film role. 

Cinema made in Austria

In the film industry, solidarity and mutual support are increasingly important. The DIAGONA- LE Festival for the Austrian Film, whose program has only partially been transferred to the Internet in March, will have a guest appearance at the Viennale as part of the AUSTRIAN DAYS. Among others, the noir-science-fiction film THE TROU- BLE WITH BEING BORN by Sandra Wollner will be screened. Other Austrian productions such as AUFZEICHNUNGEN AUS DER UNTERWELT by Tizza Covi and Rainer Frimmel, EPICENTRO by Hubert Sauper or DAVOS by Daniel Hoesl and Julia Niemann will expand the repertoire of the Austrian Days. Taken over from the Diagonale is among others WOOD – THE ROBBED FORREST from Michaela Kirst, which follows the wood Mafia on it's tracks.
Some films from the main program already celebrated their public premiere, such as the American productions FIRST COW by Kelly Reichardt, one of the most important films of the year, or NEVER RARELY SOMETIMES ALWAYS, for which Eliza Hittman was awarded the Grand Jury Prize at this year's Berlinale. A monograph on Christoph Schlingensief as well as two cinematographies on Želimir Žilnik and Austrian cinema of the 1970s complete the Viennale's program.

Viennale
22.10 – 01.11.2020
Various locations
www.viennale.at