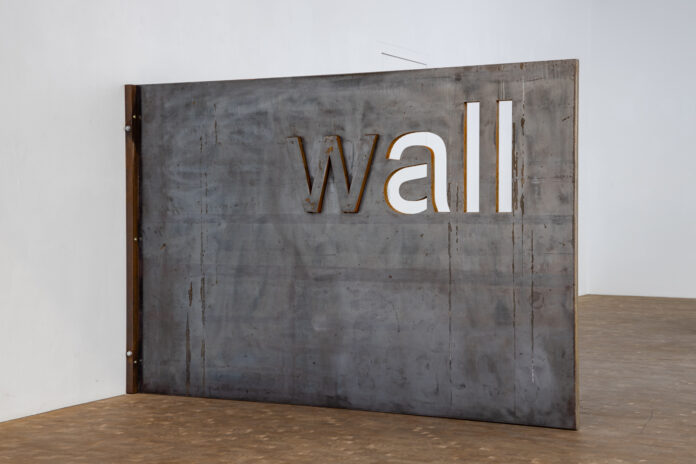 19.03. – 30.04.2021.
The Traklhaus in Salzburg is hosting a double exhibition: Michael Kos with sculptures and installations and in the studio Linus Riepler presents a walk-in art installation.
Language always plays a significant role in the creation of Michael Kos' objects, which sometimes weigh tons and are made of solid steel or stone. "Antonymskulpturen" is the name Michael Kos has given to his latest group of works, which will be on view at the Traklhaus. "Antonyms" – these are words with opposite meanings. For example, he achieves the change of a word only by adding or omitting a single letter, thus not only changing the meaning, but often even reversing it. This can be seen well, for example, in the object "W all": the "W" on the solid steel plate is closed, while the letters "all" are permeable and grant a view that can reach into space.
"Everything is happening at once" – this is the title of the work by artist Linus Riepler, which he presents in the Traklhaus Studio as a spatial construction. This is a corridor about five meters long, inside of which are various scenic representations that tell stories in the form of showcases, dioramas, sculptural elements and images. A video projection complements the work with real footage. Some elements include an interactive element – doors that can be opened, for example.

Michael Kos, Linus Riepler
19.03. – 30.04.2021
Traklhaus
Waagplatz 1a
5020 Salzburg
www.traklhaus.at