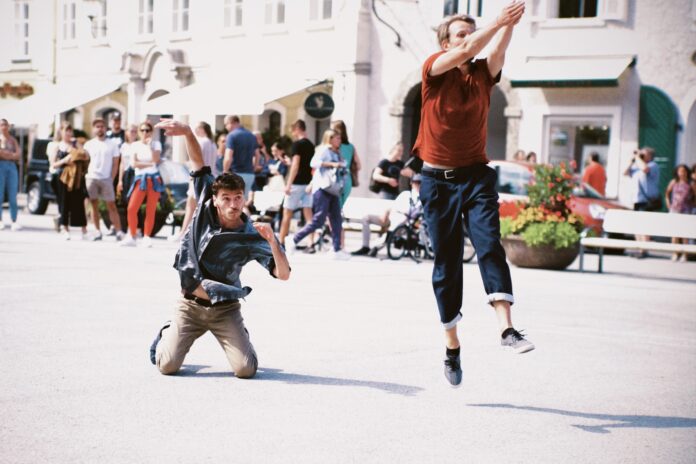 As a Peforming Arts Festival Sommerszene is dedicated to jumps – between times and spaces, 30,000 times into the air and with joy.
"Questions of distributive justice in public space are part of a discussion that is only just beginning. Blanked out for decades, the past year has contributed to a sensitization that necessitates a rethinking of urban space: where can what how take place," says Angela Glechner, artistic director of the summer scene. Her vision envisions year-round visible art projects in public spaces, a stronger sense of togetherness and more of solidary sharing of spaces and places. "Especially in a small city like Salzburg it needs green accents, a move away from intensive traffic, a recognizable political will. It is the right moment to dare to do something".
What Salzburg will look like in 2050 is told by contemporary witnesses from the future in the auditory game "über.morgen". It leads 25 visitors through a utopia of a more just coexistence on topics such as the post-work society, unconditional basic income, urban mobility, local democratic participation and locates them in the city. For theaternyx*, the collaboration of Claudia Seigmann and Markus Zett, the audio walk is a utopia training: "In order to think the future, we need the imagination that it could also be completely different.

Glechner calls the choreographers Tanja Dinter and Lisa Lengheimer, who have been performing as "salon emmer" since 2008, "the discovery of the year. JUMP! is the name of the choreography in which they "jump around" at 120 beats per minute together with 15 dance-mad Salzburgers at the station square. It is a passionate call to leave behind the imposed, physical passivity and to counteract the alienation of body and environment. "It's a choreography you can't get past," Glechner says, "It's about togetherness, joie de vivre, and the positive we share. Right now, we need that. Art is allowed to be exciting and fun." Movement in outdoor spaces, even outside the old city, has always been inherent in the Performing Arts Festival. The pandemic has only reversed the relationship between indoor and outdoor, international and national – to the benefit of the local scene and the outdoor space.
An influential voice of the choreography scene in Salzburg with an international reputation is Helene Weinzierl. Already in 2020, the Salzburg-based artist wanted to use the sculpture terrace of the Museum der Moderne to create a direct and concrete dialogue between dancers and audience through rhythm and intoxication. In the new performance, which is intended to form a "moving organism", the boundary between dancers, visitors and public space disappears. Situated between new media, animation and social criticism, the artists' collective gold extra asks: what if the borders that surround us, the conventions, rules, state borders, are not dividing lines but connections? In BORDER GRID, the audience can expect an interactively conceived puzzle and experience space made of high-resolution video walls.


Sommerszene Salzburg
08. – 25.06.2021
www.szene-salzburg.at