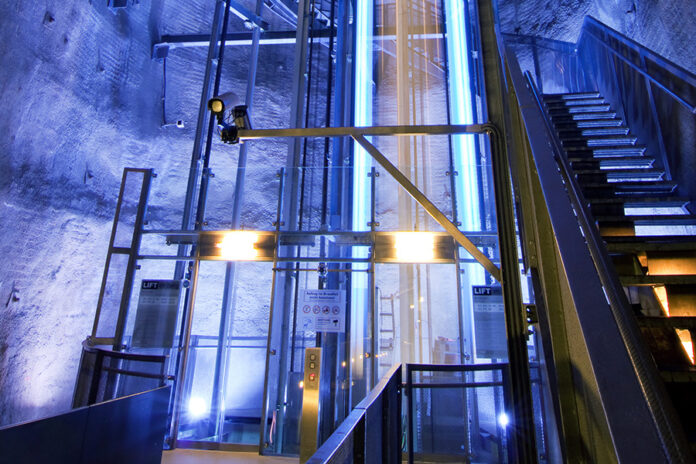 04. – 08.08.2021.
UPLIFTING MOMENTUM
The Graz Elevate Festival explores the question of how a socio-political momentum is created and ends up in the Schlossberg lift.

Summer of Love, anti-nuclear movement, Tian'anmen protests, fall of the Berlin Wall, Arab Spring, Occupy Wallstreet, Hong Kong umbrella movement, Fridays for Future – all these movements have one thing in common: they emerged from a momentum.

Some of them have changed our society permanently. Others were put down with violence. But none remained without traces.

This year's Graz Elevate Festival, directed by Daniel Erlacher and Bernhard Steirer, explores in its discourse program the question of what constitutes a momentum. What are the factors that trigger it? How do they build up and what remains of it when the wave is over? Among others, philosopher Ariadne von Schirach, media scientist and film director Paul Poet, and Guatemalan activist Renata Àvila will discuss this.

The Internet and social media have dramatically accelerated the dynamics of these movements. The Arab Spring can rightly be called the "first Internet revolution." But the Arab Spring in particular also shows how forcefully the pendulum can swing back again when the "momentum" is lost. Victor Hugo's formula: "Nothing is more powerful than an idea whose time has come" thus seems to have only temporary validity

Momentum-driven dynamics help not only political movements, but also technologies or simply organizational concepts to achieve a breakthrough. The triggers for this can come from completely unpredictable areas. The Corona crisis is the best example of this: video conferencing and home office concepts existed long before the pandemic. It took a virus to spread both like an avalanche. With fundamental effects, in turn, on completely different areas: From the aviation industry to the real estate sector.

The infinite variety of unpredictable combinations of momentum-driven change is also reflected in the Digital Arts Project of musician, sound and media artist Brian Eno. Eno, who first became known as a co-founder of Roxy Music and realized joint projects with greats such as David Bowie, Talking Heads or Peter Gabriel, has increasingly shifted his work to large-scale visual art & music projects since the 1990s.

In the interior of the Schloßberg in Graz, in the Dom im Berg and in the Schloßberg lift, he will stage his digital art & music installation 77 Million Paintings. A multi-sensory video & soundscape installation triggered by random software that draws on a digital library. It would theoretically take 77 million momentum pulses before it repeats the first time.

This year, the Elevate Festival is also setting impulses for the entire city with its music program, a large part of which will take place open air. Stages at Lendplatz and Volksgarten will feature acts such as Culk, Anger, Land of Ooo and Monsterhead. Club nights at the Postgarage, concerts at the Orpheum, where the legendary electronic duo Mouse on Mars will play, or atmospheric concerts at the Dom im Berg, for example with cellist Lukas Lauermann, complete the program.

Enough impulses, then, to ensure that hot summer nights do not end in inert political indifference, but perhaps in a momentum-driven new "Summer of Love".
Elevate Festival
04. – 08.08.2021
www.elevate.at