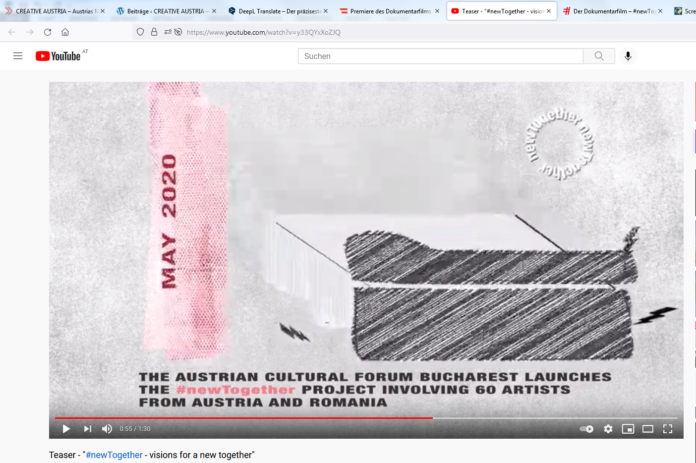 10.09. – 11.09.2021.
A crisis is always a caesura that stimulates to think about where you are and how to go on!
As part of the 28th Astra Film Festival – Festival for Documentary Film in Sibiu, in Romania, which takes place from September 5 to 12, the premiere of the documentary film #newTogether, produced by the Austrian Cultural Forum Bucharest, will be shown on September 10.
The film premiere will be followed by a discussion with the actors present and the film's production team.
The starting point was a competition to show that "2020 was the year of documentary film in Romania." The film #newTogether is based on a video experiment conducted in April-May 2020, during the first phase of the pandemic. The Austrian Cultural Forum Bucharest then invited 60 artists from Austria and Romania to reflect on their own artistic futures and how their art and our communities may change during and after the end of the health crisis. As a result, ÖKF Bucharest, commissioned Romanian theater and film director Carmen Lidia Vidu to produce a major documentary film summarizing what the participating artists had to say.
"I recognize myself and we can all recognize ourselves in all the artists who participated in the #newTogether initiative! I think that's the value of the dialogue in this project – we are all these voices, with the strength, sometimes incoherence, but also the beauty that we all carry within us," explains director Carmen Lidia Vidu.
"The documentary #newTogether is an important document of a difficult period of life, but also an invitation to dialogue between people and cultures, which we will develop within the framework of a whole program with this name," adds Thomas Kloiber, director of ÖKF Bucharest.
Director: Carmen Lidia Vidu
Production: Österreichisches Kulturforum Bukarest
Mit: Valentin Alfery, Gabriel Bebeşelea, Emőke Boldizsár, Cătălina Butcaru, Andreea Chira, Suzana Dan, Ruxandra Donose, Mercedes Echerer, Franzobel, Tudor Giurgiu, Ada Hausvater, Radu Iacoban, Claudia Ieremia, Matei Ioachimescu, Andreas Jungwirth, Anna Khodorkovskaya, Florian Kmet, Thomas Köck, Josef Maria Krasanovsky, Anna-Maria Krassnigg, Christoph Krutzler, Adela Liculescu, Dan Lungu, Andrei Măjeri, Cosmin Manolescu, Ciprian Marinescu, Irina Marinescu, Mihaela Michailov, Marius Olteanu, Tudor Păduraru, Frieda Paris, Alexandra Pâzgu, Dan Perjovschi, Thomas Perle, Micha Elias Pichlkastner, Dan Pleşa, Leta Popescu, Elena Purea, Lea Rasovsky, Andreea Răsuceanu, Ioan Rizea, Drew Sarich, Sorin Scurtulescu, Alina Şerban, Peter Sommerer, Verena Stauffer, Vava  Ştefănescu, István Teglás, Răzvan Cosmin Ţupa, Sabina Ulubeanu, Carmen Lidia Vidu, Elena Vlădăreanu, Peter Wagner, Gottlieb Wallisch, Anna Weidenholzer, Alexandru Weinberger-Bara, Elise Wilk, Beate Winkler, Mihai Zgondoiu
Premiere of the documentary #newTogether
10.09. – 11.09.2021
28. Astra Film Festival 2021
Astra-Nationalmuseumskomplexes
Strada Pădurea Dumbrava 16
Sibiu, Romania
Austrian Cultural Forum Bucharest
https://www.bmeia.gv.at/kf-bukarest/aktuelles/veranstaltungen/detail/article/premiere-des-dokumentarfilms-newtogether-auf-dem-astra-film-festival-2021/
Project & Film commentary
https://www.newtogether.at/de/der-dokumentarfilm/