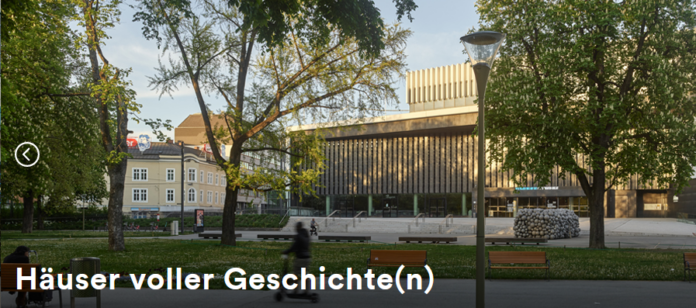 12. bis 14. November 2021 und 28. bis 30. Jänner 2022.
Linz has changed a lot, especially in recent times, and has established itself as a city with cultural flair.
With the architecture tours, organized by Linz Tourismus, there is now the possibility to discover the present as well as the hidden jewels of architecture in Linz on different architecture paths.
At the latest since Linz was European Capital of Culture in 2009, the industrial city with an austere image has developed into a cultural metropolis. This is also visible in architecturally sensational buildings such as the Lentos Kunstmuseum, the Ars Electroncia Center or Musiktheater Linz.
In cooperation with the afo architekturforum oberösterreich the architectural city map "LINZ VERÄNDERT ARCHITEKTUR" will be reissued.
Those who want to embark on their own smart discovery tour of architecture and art in public spaces can do so with the Visit-Linz app. Either on foot or by bike, there are various themed paths to choose from that connect works of art with exciting museums, selected art, creative galleries and unique architecture. The new Linz Architecture Map provides information about new and exciting architectural positions in Linz.

A special experience of modern and historic architecture in Linz and the encounter with architects, urban planners and representatives of cultural institutions is offered by the Architectour.

From the tobacco factory to the organically shaped structure of the Bruckner Private University, from the Music Theater at the Volksgarten and its extended living room in the park to the former People's Kitchen by Curt Kühne and the Mariendom with its tower towering over everything, the focus tours offer meetings with Andreas Henter of Tp3 Architekten, Franz Koppelstätter, director of the afo architekturforum oberösterreich, and Mr. Starczewski, who complements the contemporary architecture with information about the past.
Architektour – Häuser voller Geschichte(n)
12. to 14. November 2021 and 28. to 30. January 2022
www.linztourismus.at/architektur
Visit-Linz-App
https://www.linztourismus.at/freizeit/reise-planen/visit-linz-app/
Presentation of the new Architecture Plan "LINZ VERÄNDERT ARCHITEKTUR"
Wednesday, November 3rd 2021, 4 pm
afo architekturforum oberösterreich
Herbert-Bayer-Platz 1
4020 Linz

Detailed Info:
afo.at
Booking:
https://www.linztourismus.at/freizeit/reise-planen/naechtigen/packages/architektur/