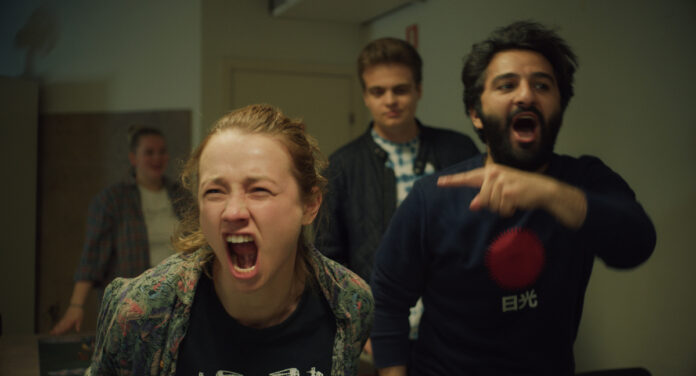 The Linz film festival CROSSING EUROPE is under new management this year following Christine Dollhofer's move to the management of the Vienna Film Fund. Sabine Gebetsroither and Katharina Riedler, who have worked at the festival for many years, will head the festival as a duo starting this year. They want to continue the fundamental orientation of the festival. Showing attitude through program selection is what Gebetsroither and Riedler are all about. "Since we have known each other for a long time – including our taste in film – and both have already worked together with Christine Dollhofer in the program team in recent years, we have a good understanding of how the festival should 'tick'," say Gebetsroither and Riedler. "We are concerned with the presentation of current European filmmaking with an independent artistic signature," Gebetsroither and Riedler agree. The program tracks focus on "burning" socio-political and social issues.
For example, in the film "Ninjababy" by Norwegian director Yngvild Sve Flikke, which will be shown in the youth program YAAAS! 23-year-old Rakel dreams of becoming an astronaut, a forester or a cartoonist when she finds out she is pregnant. Unfortunately, who the father is is not so clear. When Baby also turns out to be a mask-wearing cartoon character, Rakel is at her wits' end.
The satire "Youth Topia" by Denis Stormer sketches a society in which one remains a teenager and free of obligations until an algorithm has determined from the extensive surveillance data which job one is destined for. It's no wonder that some young people get the idea of subverting this system and produce completely nonsensical data with their cell phones in order to simply continue having fun undisturbed and let the algorithm run into the void.
The debut film by Alessandra Coppola, "La Resistanza" takes us to southern Puglia and tells the story of a group of young people who discover a dilapidated communal mill in one of the region's abandoned villages. Together with newly arrived migrants, they found a cooperative, restore the mill, grow seeds and begin to cultivate again the old ecological farming methods of the region in the abandoned fields of the depopulated villages. A film that also shows perspectives for the rural regions of Europe and makes clear how much Europe can profit from immigration.
Gebetsroither and Riedler have put together a film program that reflects the major issues facing Europe: Flight, Migration, Integration, Nationalism & Totalitarian Regimes, Minorities & Empowerment. With films that go into the depths and also under the skin.
Crossing Europe 2022
27.04. – 02.05.2022
Linz
various locations
www.crossingeurope.at