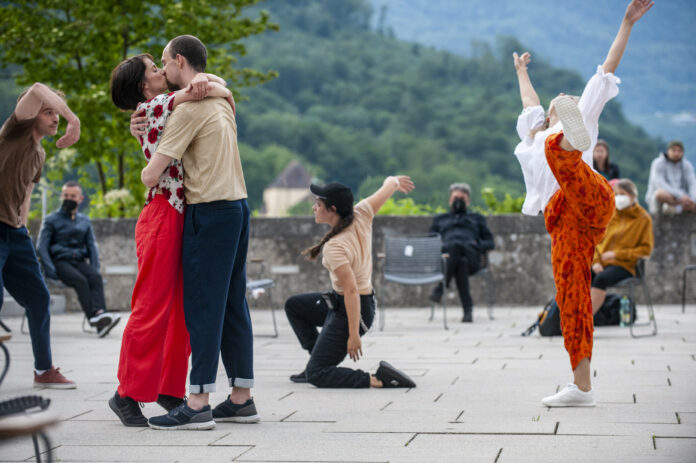 09. – 24.06.2022.
International, contemporary, high-profile, virulent, avant-garde, discursive, political: As part of the artistic "centerpiece" of SZENE Salzburg, important names and new discoveries from all over the world will be making guest appearances in the city for just under two weeks with their current dance and theater pieces.
"The response of the visitors to the productions [is] a clear sign that art and culture want and need to be experienced live. Audiences and artists enjoy the immediacy and uniqueness of performative live performances," sums up artistic director Angela Glechner.
Once again, the Performing Arts Festival sees itself as a socio-political initiator and presents works by internationally renowned companies and up-and-coming young artists* who represent a diverse range of content-related and aesthetic positions.
With their internationally acclaimed group piece "Fúria", Brazilian choreographer Lia Rodrigues and her Companhia de Danças make their first guest appearance at the Summer Scene. "Fúria" is a hymn to life, a wild, raw, breathtaking celebration of human existence. Scraps of fabric, scraps of plastic, tattered mattresses and all manner of detritus are found on stage, from which figures slowly and painstakingly emerge.
In "BÉTON BRUT" the urban dance company Hungry Sharks combines the aesthetics and principles of brutalist architecture with the values and history of the dance style breaking. The revolutionary movement Brutalism enriched the architecture of the 1950s with new values, principles and buildings, which are still visibly present in cityscapes around the globe.
Die Rabtaldirndln are a four-person theater collective from Graz that has been continuously working on its own formal language since 2003. Their productions are urban, often with pop cultural elements, of a great sensitivity and universal validity. Most recently, in their diptych-like piece BETONFIEBER/BETONGOLD, they brought the red-hot topic of soil sealing to the point. It is precisely this work in the area of tension between urban and rural culture that is the unique selling point of the Rabtaldirndln. In addition, they represent strong feminist attitudes in their productions.
Sommerszene Salzburg
09. – 24.06.2022
verschiedene Locations
www.szene-salzburg.at/sommerszene