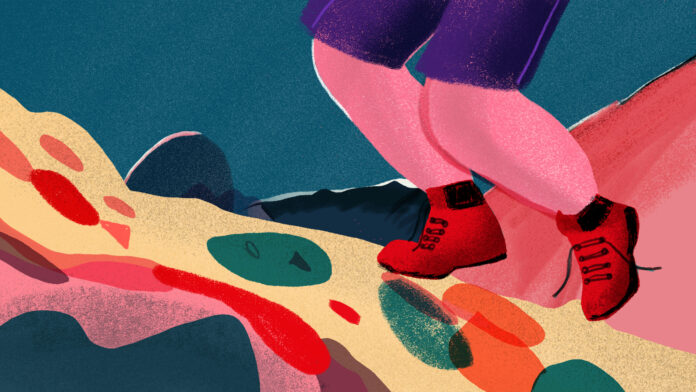 The fourth edition of the Tricky Women film reel is not only about traveling, it is also about traveling!
The cooperation of the Tricky Women/Tricky Realities Film Festival with the Section for International Cultural Affairs at the Ministry of Foreign Affairs was launched in 2009 and takes the opportunity to make the diverse work of Austrian female animated film artists internationally visible and known. A selection of current animated films is presented for two years in cooperation with the Austrian cultural forums.
Teresa Indjein, the director of foreign culture, sees in the presentation of this program, the opportunity for the audience to "take away some beauty, some thoughtfulness and joy for themselves."
Waltraud Grausgruber, director of the Tricky Women/Tricky Realities Film Festival, which took place this year from March 09 – 13 and whose program included the film by Florence Miailhe, the grande dame of French animated film, "La Traversée" (FR/CZ/DE, 2020), says of the current program, "[It] speaks of the love of life to the fear of life, takes up ancient myths and portrays modern encounters. It not only tells stories, but also demonstrates how diverse the techniques are."
And so among the films shown is the story of the journey of the first Viennese elephant, which came from Ceylon via Lisbon to Vienna in the 16th century. Or that of grandmother Heidi, who is convinced that one exists as long as one hikes and therefore never takes off one's hiking boots. Matters of the heart go on a journey in the love letter and in the homage to the love letter the words become pictures.
An unusual view of a city reveals urban fringes that have to cope with marginalization and anonymity. But the routine of everyday life also becomes moving images far from stagnation.
The ten works of the animated artists in the film reel show that animated films can create approaches to people, worlds and situations, go into depth or maintain distance.
Tricky Women Filmrolle 2021
FILME
Linzer Lust | Linz Delight
Maya Yonesho, AT/DE 2019, 3'17
Vermessung der Distanz | Measuring the Distance
Susi Jirkuff, AT 2019, 7'
The Outlander
Ani Antonova, AT 2018, 5'
Shaul und Iwan | Shaul And Ivan
Rebecca Akoun, AT 2019, 9'50
Contouring
Veronika Schubert, AT 2019, 3'50
Lieb Dich | Love You
Sabine Groschup, AT 2019, 8'
Pangäa
Beate Hecher und Markus Keim, AT 2020, 13'35
Who's Afraid Of RGB
Billy Roisz, AT 2019, 8'20
In Her Boots
Kathrin Steinbacher, AT/UK 2019, 6'02
Cardiograph, AT 2018, 1'40
Explosive Speech, AT 2017, 2'00
Shaping Waves, AT 2018, 1'45
Glass Wall
Anna Vasof, AT 2017, 2'07
Infos über aktuelle Onlinescreenings: