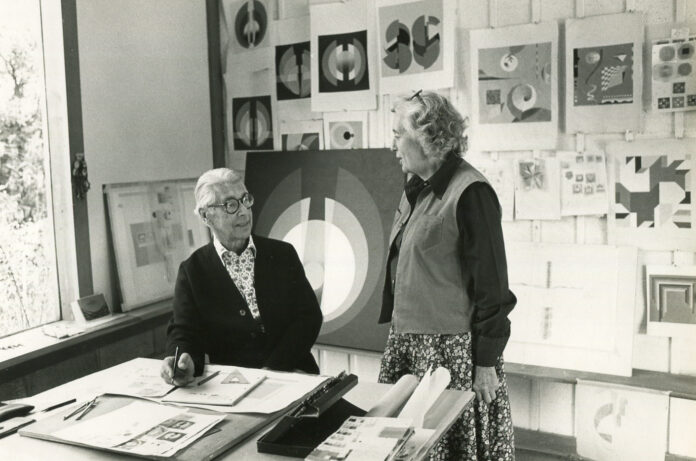 30.09.2022 – 08.01.2023
Man Ray portayed her. Salvador Dalí turned her portrait into a sculpture and the MOMA in New York bought a piece of blank stationery with just her name on it for its collection. Joella Bayer was more than "just" the manager of her husband and universal artist Herbert Bayer.
The Lentos Art Museum, which, with its Bayer archive, has one of the most comprehensive collections of works by Herbert Bayer, is dedicating a large-scale exhibition to the artist couple. Herbert Bayer's artistic career began in Linz. The universal artist is best known today for his graphic work. But the influence he and his second wife Joella Bayer had on the art world of their time goes far beyond that.
Immediately after the First World War Herbert Bayer worked in the studio of the Linz architect Georg Schmidthammer. He then went to the Bauhaus in Weimar and Dessau to study there. Wassily Kandinsky, among others, was his teacher. Together with Walter Gropius and László Moholy-Nagy, he was responsible for the design of the Deutscher Werkbund exhibition in Paris in 1930, which is still highly regarded today. As a graphic artist, type designer, exhibition designer and visual artist, Herbert Bayer successfully established himself as a universal artist. He worked according to the Bauhaus principles in a team-oriented and interdisciplinary manner in all artistic disciplines.
Some of his theoretical design work was decades ahead of his time. During his time at the Bauhaus, he introduced the standardization of all printed matter according to the DIN standard and also implemented lower-case letters in typography. Bayer's clear, colorful and largescale designs were already valued by industrial groups and in tourism advertising in the 1930s. After the Nazis took power in Germany in 1933, Herbert Bayer also worked on exhibitions commissioned by the Nazis. He designed for example the exhibition catalog for the exhibition "The Camera – Exhibition for Photography, Printing and Reproduction", which was held under the patronage of Joseph Goebbels. Further works followed, for example for the exhibition "German People – German Work" or an exhibition on the occasion of the Summer Olympics in Germany in 1936. Nevertheless, as part of the Nazi art cleansing campaign in 1937, works by Herbert Bayer were confiscated by the Nazis as so-called "degenerated art". That was probably one of the main reasons why Bayer emigrated to the USA a little later.
There he was able to gain a foothold as an architect and designer of large sculptures and, among other projects, designed the exhibition "Bauhaus 1919-1928" for the Museum of Modern Art in New York together with his former teacher Walter Gropius and his wife Ise. Herbert Bayer's success in his "second career" in the USA would probably have been inconceivable without his second wife Joella Bayer, the daughter of the gallerist Julien Levy, who was well connected in New York, and the artist Mina Loy. It is largely thanks to Joella Bayer that Herbert Bayer's work still has an impact today. After Herbert Bayer's death in 1985, she also looked after his estate with great care, a significant part of which is now in the Lentos collection. Herbert Bayer's influence was probably most lasting on graphics and typography. Not just his time. Millions of PC users around the world are still working with his designs today – mostly without knowing it – The "universal" font goes back to a design by Herbert Bayer and is probably installed on millions of computers worldwide.
Herbert & Joella Bayer – Joining Forces in the Service of Art
30.09.2022 – 08.01.2023
Lentos Kunstmuseum Linz
www.lentos.at