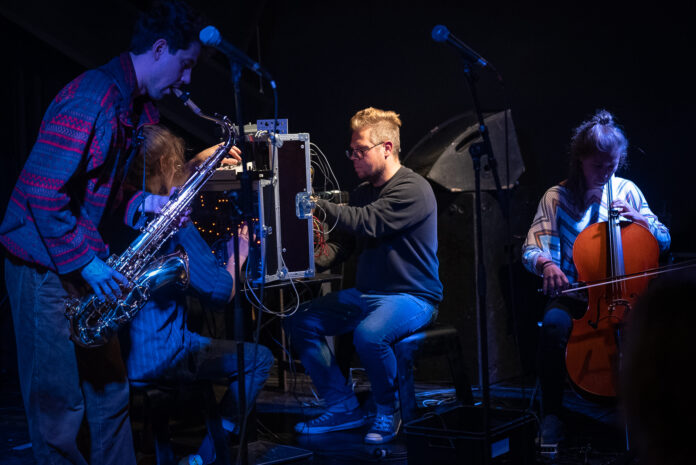 25.08. – 02.09.2023
At the end of August, the bubble bath is transformed into a utopian resort of the special class and celebrates the first Graz Improv Festival.
For nine days, international/national artists and collectives and all other experimentalists invite you to improvise together.
People sing and sing, build instruments and play music, cook and network, perform and look for the theoretical and structural prerequisites for the perfect improv flow. An offer for body, mind and soul, in the middle of the post-industrial wasteland: it's all just improvised.
Participating artists and initiatives:
Adina Camhy, Andrea Sadjak, Annette Giesriegl, Antonia Manhartsberger, Astrid Rieder, Charlotte Hug, Chloé Ryo, Chris Tonelli, Denovaire, Eva Esmannn Behrens, Fiston Mwanza Mujila, Georg Wissa, Gerd Juritsch, Gudrun Lang, Johannes Feuchter, Katrin Euller, Keyvan Paydar, Khrystyna Kirik, Lain Iwakura, Mara Probst, Marcin Morga, Margarethe Maierhofer-Lischka, Markus Gruber, Martin Glawitsch, Martin Rupp, Masimba Hwati, Patrick Wurzwallner, Philipp Egger, Philipp Steinkellner, Raphael Meinhart, Reza Kellner, Richie Herbst, Robert Lepenik, Roman Trubchaninov, Seppo Gründler, Stefan Krische, Yuri Landman, Yvonne Hofmeister
FKK – Kunstfreundeskreis, GIK – Grazer Impro Klub, Grrrls Kulturverein, Jugend am Werk, M4M – Meet4Music, mischen, Ortweinschule Graz – Meisterklasse für keramische Formgebung, Radio Helsinki, Risograd, STIO – Styrian Improvisers Orchestra
GIF – Graz Improv Festival 2023
25.08. – 02.09.2023
Schaumbad – Freies Atelierhaus Graz
Puchstraße 41
8020 Graz, Styria
schaumbad.mur.at