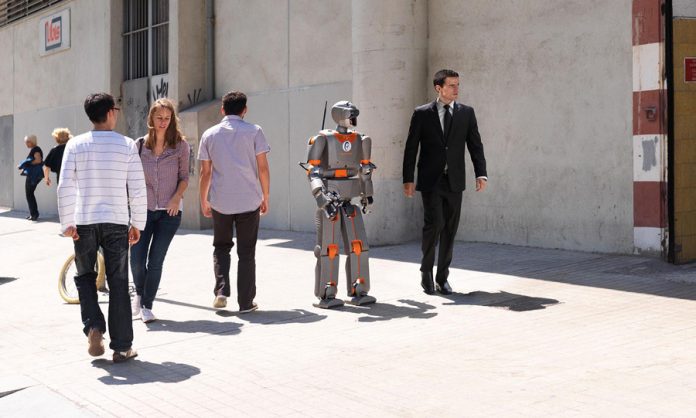 21.06. – 01.10.2017; Vienna.
Vienna Biennale: What work remains for mankind?
How long will it be before robots begin to shed real tears as well?
This year's VIENNA BIENNALE dares to cast a speculative glance into a chapter of mankind's history which has yet to be written. A chapter in which humans must share their unique rationality and empathetic ability with others at some point. The unstoppable evolutionary speed with which selflearning algorithms and artifi cial intelligence programs evolve and are increasingly melded with robotic technologies in the real world is no longer reversible. The moment in which such systems escape mankind's control will come. The changes in society will be fundamental. This is already seen in the working world today – to some extent.
MAK-director Christoph Thun-Hohenstein, initiator and director of the VIENNA BIENNALE states, "The digital future concerns us all. We are faced with a fundamentally democratic task, which we must overcome together with active support from art, design, and architecture."
The formation of future human-machine relations raises complex ethical and political questions. The exhibition "Hello, Robot. Design between Human and Machine" – a collaboration between the Viennese MAK, the Vitra Design Museum, and the Design Museum Gent – explores the question of what role design can and will play in the formation of this relationship.
The University of Applied Arts Vienna is taking part in the VIENNA BIENNALE with the exhibition "How will we work?", which takes a critical view on the already occurring as well as future changes that are taking place in the working world.
The CityFactory: "New Work. New Design." project examines the fact that new technologies must not necessarily only pose a threat to, but also create new opportunities and fields for social and sustainable work.
The Kunsthalle Wien puts the human body at the heart of the VIENNA BIENNALE with the exhibition "Work it, feel it!" and focuses on discipline and control mechanisms which shape and regulate the body, as well as moments of (corporeal) resistance to what has become all-encompassing and limitless work.
INFO

VIENNA BIENNALE 2017:

Roboter. Arbeit. Unsere Zukunft
 21.06. – 01.10.2017
 www.viennabiennale.org

Hello, Robot
 Design zwischen Mensch und Maschine
 MAK-Ausstellungshalle
 21.06. – 1.10.2017

ARTIFICIAL TEARS
 Singularität & Menschsein
 – Eine Spekulation
 21.06. – 1.10.2017

ich weiß nicht
 Wie die Beziehungen zwischen den Dingen wachsen
 MAK DESIGN LABOR
 21.06. – 1.10.2017

How Will We Work?
 AIL Angewandte Innovation LAB
 21.06. – 2.07.2017

Work it, feel it!
 Kunsthalle Wien Karlsplatz
 21.06. – 10.09.2017

Care + Repair
 Ein öffentlicher Arbeitsraum des Architekturzentrum Wien
 Nordbahnhof
 21.06. – 31.07.2017

StadtFabrik
 Neue Arbeit. Neues Design.
 MAK-Ausstellungshalle und Demonstratoren im Stadtraum
 21.06. – 1.10.2017

Was wollen wir?
 Dimensionen eines neuen digitalen Humanismus
 MAK-Säulenhalle
 21.06. – 1.10.2017

LeveL – the fragile balance of utopia
 Eine Installation von mischer'traxler studio im MAK
 MAK GALERIE
 21.06. – 1.10.2017

DESIGN FOR AGENCY.
 Handlungsmacht gestalten
 MAK FORUM, MAK, Stubenring 5, 1010 Wien
 21.06. – 2.07.2017