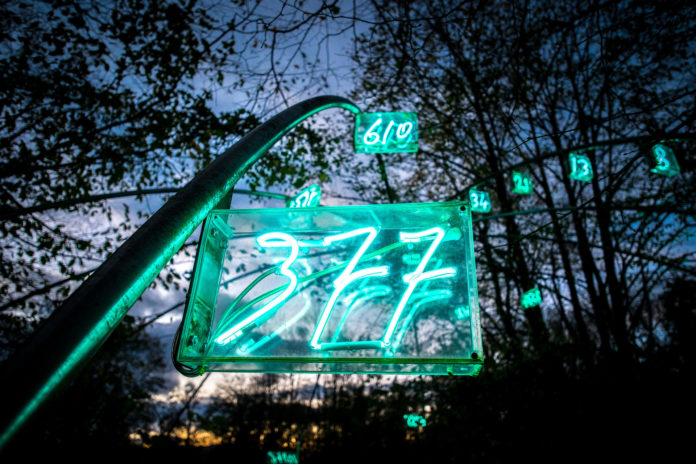 Fibonacci Integrated. Salzburg's art in public spaces as a sequence of numbers.
Safety distance can open new perspectives. Apart from guided tours and tourist crowds, the artworks of the Walk of Modern Art can also be enjoyed alone, on private walks.
The growth of a rabbit population has been described by the medieval mathematician Leonardo Fibonacci with a series of numbers, which results when one adds the previous one to the next. Already after 50 additions one has the number 20.365.011.074 as a result. The "Fibonacci series" forms an important basis for the "Golden Ratio", which has become a cultural commodity, not least through Leonardo da Vinci's studies of proportion to the "Vitruvian Man": excessiveness and aesthetic perfection combined in one common formula.
When Mario Merz (+), one of the most important representatives of the "Arte Povera", was asked by the Salzburg Foundation to realize an art project in public space, he took the Fibonacci series as the starting point for his installation "Zahlen im Wald " on the Mönchsberg in Salzburg. It seemed to him an appropriate starting point for his work in Salzburg. Merz's work often contains enigmatic political messages and invites the spectators to explore the issues themselves. The committed antifascist always understood how to interlink the contradictions of the present, of living and working, emotions and rationality, in a symbolic way.
It applies to Merz 'work on the Salzburg Mönchsberg as to a series of other projects that the Salzburg Foundation has implemented in Salzburg over the past few years: The urgent topics they deal with were often several years ahead of the general discussion. "Zahlen im Wald" is an open igloo-like construction. It outlines a space of security but offers no protection at the same time, and raises questions about challenges for the societies of the future with regard to their varying reproductive powers on the bases of the numbers from the Fibonacci series.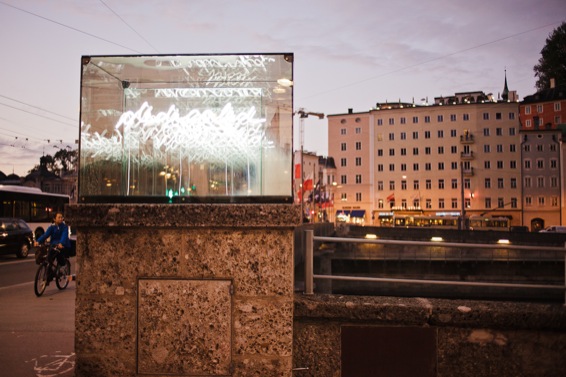 Also Anselm Kiefer's installation A.E.I.O.U. in the Furtwängler Park, opposite the Festspielhaus, is an example of how art in public spaces can gain new relevance against the background of the current political situation: The starting point for the work housed in a cubic pavilion is a stanza from the poem "Das Spiel ist aus" by Ingeborg Bachmann that reflects the nomadic background of our existence in the world. For Kiefer, a topic that concerns the city of Salzburg.
The 15-meter-high chair without seat by Marina Abramovic near the Staatsbrücke or the expressionless figures of Stephan Balkenhol at Kapitelplatz and Toscaninihof, which do not seem to reveal anything about themselves and many more public art projects from Salzburg Foundation have added a new layer to the City of Salzburg, confronting visitors and people of the city with a highly topical critical mirror. Provided, one is ready to watch.
Walk of modern Art
Salzburg Foundation
Various locations
Salzburg
salzburgfoundation.at