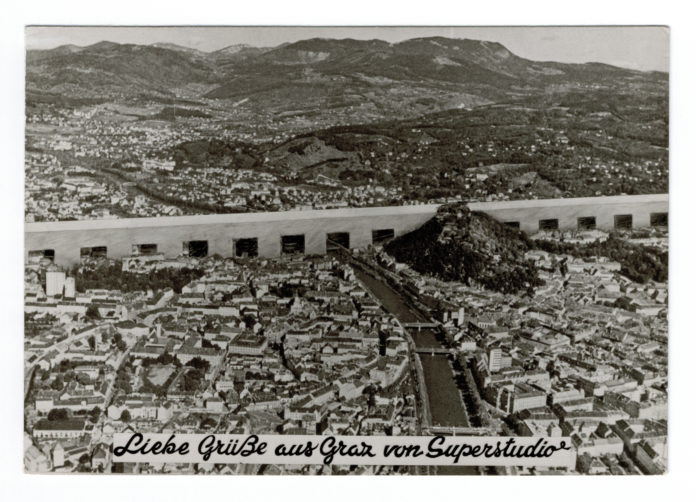 21.09.2019 – 08.11.2019; Graz.
The Florentine collective Superstudio send their greetings with a memory of socially critical architecture.
The architect and artist group Superstudio, founded in Florence in 1966, became known for its radical approach: with the socio-critical model design "The Continuous Monument: An Architectural Model for Total Urbanization", they went down in the architectural history of the 20th century. The first and only built version of this design was created in 1969 in Graz as part of the trigon 69: architektur und freiheit (trigon 69: architecture and freedom) biennial of three countries.
50 years later, the Haus der Architektur takes a look into the social conditions that accompanied the production and reception of this design. Documents, drawings, collages and photographs that Superstudio left behind in Graz are completed by positions of contemporary architectural and artist groups that operate exclusively with digital tools. The result is an immersive environment in which the role of architects as interior designers and their tools are examined with regard to their future potential.
Sorry, the file you have requested does not exist.
Liebe Grüße aus Graz von Superstudio.
21.09.2019 – 08.11.2019
Haus der Architektur
Mariahilferstraße 2
8020 Graz
hda-graz.at