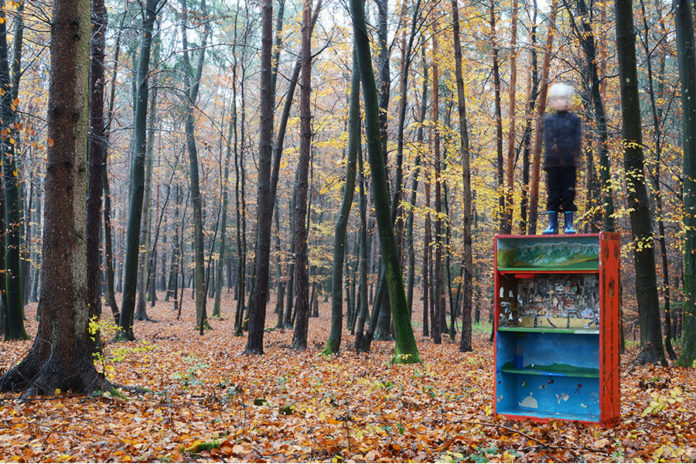 29.11.2019 – 26.01.2020; Vienna.
The winners of the Kunsthalle Wien award, Nina Vobruba and Malte Zander, show their extended projects in a joint exhibition.
The two art students Nina Vobruba and Malte Zander, whose master theses were awarded the Kunsthalle Wien Prize in 2019, developed a new exhibition format from their extended projects.
Nina Vobruba takes a former military barracks in Fehring as the starting point for her work nest bau. The old barracks are the homes of seventy people aged 1-77, who together form an alternative everyday space in the "Zukunftswirkstatt Cambium". The installation nest bau reflects the transformation process of the social fabric and includes structural components of the barracks. Parts of the installation will return to their original location in Fehring at the end of the exhibition.
In his installation Languor, Malte Zander stages a projection of supposedly found film material that contains images of an apparently abandoned film set. The accompanying text tells the story of a group of young people in search of a mysterious underground cinema. Malte Zanders Film is set in generally unknown locations, whose fictional character and special recording and editing techniques create an unusual tension between the reality of the film set and the virtual locations as production sites for dream and art worlds.
This year, the Kunsthalle Wien Prize will be awarded for the fifth time among some 150 diploma theses on visual and media art. It is a collaboration with the Academy of Fine Arts Vienna and the University of Applied Arts Vienna.
Kunsthalle Wien Award
Nina Vobruba and Malte Zander
29.11.2019 – 26.01.2020
Kunsthalle Wien
Museumsplatz 1
1070 Wien
www.kunsthallewien.at