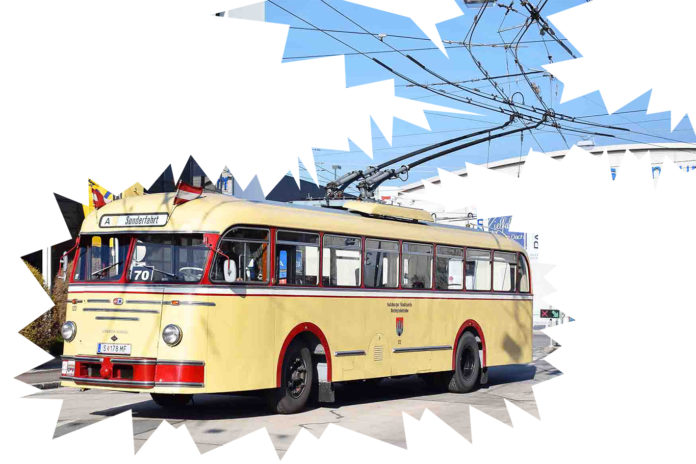 The trolleybus belongs to Salzburg, just like the "Salzburger Nockerl" or the Schnürl-Regen. Lea Sauer and Özlem Özgül Dündar invite you on a literary city tour with the trolleybus from Mozartplatz via Lehen to the Andräviertel as part of the Salzburg SPEZIAL literature festival. The focus is on a term that has recently been used by some politicians to describe themselves adequately: The flexing.
Sauer and Dündar do not, however, take their texts into the lowlands of day-to-day politics, but rather explore the city itself with them, through which one moves every day. Shifts in perspectives on the everydays life included.
Instead of retreating into the culture quarantine, the Salzburg Literature Festival takes the opposite path and goes out into the city with a series of programmes. The "Literaturfest Salzburg SPEZIAL" will only take place this year. Josef Kirchner and Robert Prosser, took over the management of the Literaturfest Salzburg last year. "We see it as our task to inspire a new audience for literature and we will also take unusual paths to achieve this," say Kirchner and Prosser.
Paths that can be explored not only by trolleybus but also on a walk:
Anyone who prefers to walk rather than take a bus can also participate in the "Literat(o)ur" city walk. Kay-Michael Dankl has devised a literary trail through the lanes of Salzburg's old town. Be it Thomas Bernhard or Birgit Birnbacher: the texts of numerous writers are "inscribed" in the squares and lanes of Salzburg. But the participants in this "literate(o)ur" also become authors themselves. Entertaining writing experiments included.
Arthur Zgubic and Ingo Wenzinger from "ohnetitel – Network for Theatre and Art Projects" invite you to take part in a tour named "The fine art of strolling for the untrained & advanced". The question they raise is: Is everybody even capable to stroll without previous experience? Is strolling rather a way of moving or a state of mind? The figure of the "stroller" appeared in France in the 19th century and found its blueprint in the English "dandy". Both have left numerous traces in litera- ture, which Zgubic and Wenzinger take as a starting point for their literary exercise tour.
Literary festivals therefore do not only consist of readings. But of course, this edition of the Literaturfest Salzburg SPEZIAL also includes them.
Guests are, among others: Mercedes Spannagel, Helena Adler, Nava Ebrahimi or Steffen Kopetzky. All the way to KlitClique: Austria's most danger- ous rap duo of all times, who have sucessfully destroyed numerous freestyle battles and never rebuilt them.



Literaturfest Salzburg Spezial
26.09. – 27.09.2020
various locations
www.literaturfest-salzburg.at