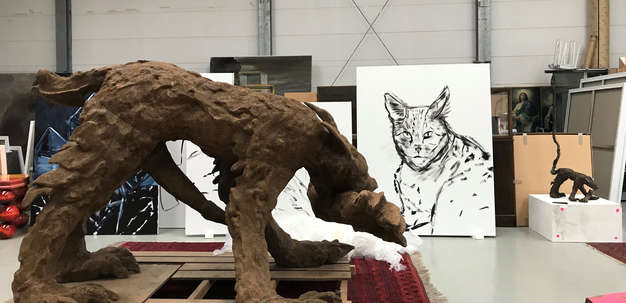 >> from 03.11 temporarily closed << 23.10.2020 bis 07.03.2021.
The Kunsthaus Graz is dedicating an exhibition to Herbert Brandl's work, in which, for the first time, parts of his collections will be on display alongside Brandl's two- and three-dimensional works.
Herbert Brandl's paintings challenge figuration, abstraction and subjective gesture in equal measure. Its transferability to various material media is explored and extended into the three-dimensional. The show at the Kunsthaus Graz takes its starting point in the artist's associatively linking, processual working method. What is seen, experienced and imagined meet in Brandl's work, are processed, condensed, exposed or extinguished.
For the first time, Brandl's most important groups of works, two- and three-dimensional works and his collections (minerals, Japanese knives, carpets, works by other artists) are brought together and put into relation to each other, and biographical, conceptual and material connections are highlighted.
The exhibition will be accompanied by an artist's book, a collection of Brandl's photographs, which provide insight into his artistic interests and environment.


Herbert Brandl
"Morgen"
23.10.2020 bis 07.03.2021
Kunsthaus Graz
Lendkai 1
8020 Graz
www.museum-joanneum.at