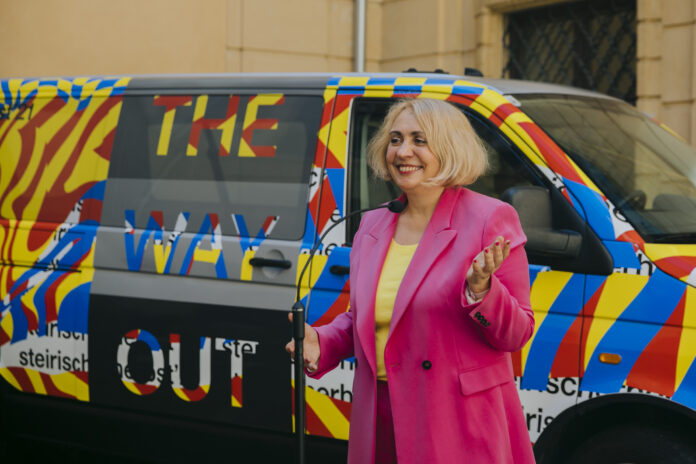 09.09. – 10.10.2021.
steirischer herbst is the longest serving festival for interdisciplinary and contemporary art in Europe. Every year between September and October, in a period of three weeks, Graz is transformed into a festival metropolis. In addition to the so-called core program, steirischer herbst also includes a parallel program and the festival-in-festival programs musikprotokoll, STUBENrein and Out of Joint.
The festival der steirische herbst already has a long history of engaging with public space and this year also ventures radically outside, out of the lockdown, but also out of the safe institutional bubble. What's more, this year's festival – in addition to starting earlier, as early as September – is a full week longer than usual.
"The Way Out" is this year's festival theme, and it addresses the question of the extent to which artworks can penetrate the everyday, whether in the form of chance encounters, local workshops, or public gatherings. After a year of lockdown life and online culture – two things have become apparent: how valuable online culture is when it comes to reaching audiences beyond geographical boundaries on the one hand, and on the other hand how important the rediscovery of the outside world is now again.
The festival will open in public space with a new installation by Marinella Senatore. Until mid-September, large-scale street interventions by Sophia Brous (with Faye Driscoll, Samara Hersch and Lara Thoms) and Flo Kasearu, as well as situations by Tino Sehgal, will also animate the parks, alleys and squares of Graz. Reality is put to the test: moving bodies of city dwellers & residents as well as performers flow into each other in works of art.
Many of the festival projects are based on intensive cooperation with social organizations in Graz and Styria. A monument in honor of Simone Weil by Thomas Hirschhorn, who is known for his years of involvement with community projects, is based on the same kind of on-site work. Dejan Kaludjerović has developed an opera based on interviews with children on topics such as war, racism and the pandemic, in collaboration with Marija Balubžić, Bojan Djordjev and Tanja Šljivar. Theater director Felix Hafner, in collaboration with the Styrian Cultural Initiative, organizes workshops in the towns of Weiz, Deutschlandsberg and Maria Lankowitz, where he develops performances with local residents instead of theater ensembles and explores what drives participants across generations to protest and public political engagement.

This year, the discursive program "Ideas" revolves around the stumbling blocks of post-pandemic reality and looks for ways to move them out of the way. Kicking off with Paul B. Preciado, the program continues with a variety of online keynotes from authors and thinkers titled The Way Out Of … A conference on transformation organized in conjunction with Forum Stadtpark simultaneously explores current debates around war communism, economic planning, mobility, and labor in an era marked by crisis and rapid historical change.
In view of the current sanitary measures and uncertainties in travel, steirischer herbst makes a point of opening its productions to all those who cannot or do not want to attend them under the current conditions. Three major stage plays by Hito Steyerl and Mark Waschke, Žiga Divjak (a co-production with the Mladinsko Theater in Ljubljana) and Yael Bartana will be premiered and lavishly streamed at the Orpheum in Graz as part of the festival. These plays address major contemporary issues, such as digital feudalism, popular uprisings, toxic nationalism, and the climate crisis.

Participating artists this year include Yael Bartana; Uriel Barthélémi with Sophie Bernado & Salomon Baneck-Asaro; Sophia Brous with Faye Driscoll, Samara Hersch and Lara Thoms; Phil Collins; Lars Cuzner; Žiga Divjak; Nicholas Grafia & Mikołaj Sobczak; G.R.A.M.. ; Nilbar Güreş; Hans Haacke; Horst Gerhard Haberl; Felix Hafner; Heimo Halbrainer; Thomas Hirschhorn; Hiwa K; Dejan Kaludjerović in collaboration with Marija Balubžić, Bojan Djordjev and Tanja Šljivar; Flo Kasearu; Boris Mikhailov; Paul B. Preciado; Die Rabtaldirndln; Tim Radya; Reverend Billy & The Church of Stop Shopping; Stefanie Sargnagel; Tino Sehgal; Marinella Senatore; Mounira Al Solh; Hito Steyerl and Mark Waschke; Theater im Bahnhof and Rosemarie Trockel.


steirischer herbst 2021
09.09. – 10.10.2021
various locations