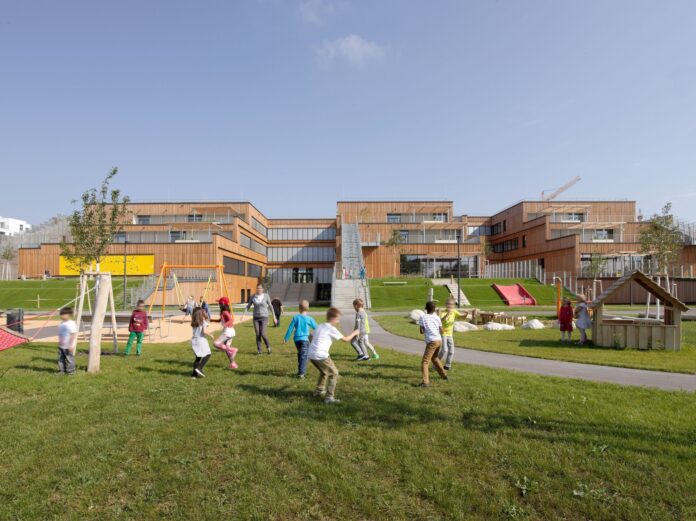 09.06 – 11.06.2022
Educational spaces of the future at the Architecture Days.
"Architecture and Education: Living, Learning, Space" is the motto of the architecture day programme, which is designed as a year-round cycle and ends in June. The focus is on the future and the potential of learning spaces.
The requirements for educational buildings are subject to constant change. The often long-standing planning processes for educational buildings must be able to anticipate future requirements and developments as early as the development and design process.
How architects approach this task in cooperation with educational scientists, pedagogues and didactic scientists is shown by numerous events across Austria as part of this "finale" of the Architecture Days.
In Vienna, interested parties can take part in a guided tour through the renovated campus of the University of Music and Performing Arts at the invitation of the "Architecture Center Vienna" or experience exemplary "educational districts" of different urban design characteristics with the "ÖGFA" on three tours.
The "HDA" in Graz invites to the lecture "Educational spaces are living spaces!" by Dorte Kristensen, atelier PRO, The Hague.
In addition to many other program items, several federal states are dealing with the history of school construction: The "vai Vorarlberger Architektur Institut" is showing the exhibition "Educational Shock – Learning, Politics and Architecture in the 1960s and 1970s" and the "Initiative Architektur Salzburg" is showing in cooperation with the Mozarteum Salzburg the exhibition "Bildungs(t)räume" – a panorama of historical and current interactions of "learning and space".
Architecture Days – Finals / Austria
Austria, various locations
09.06 – 11.06.2022
www.architekturtage.at