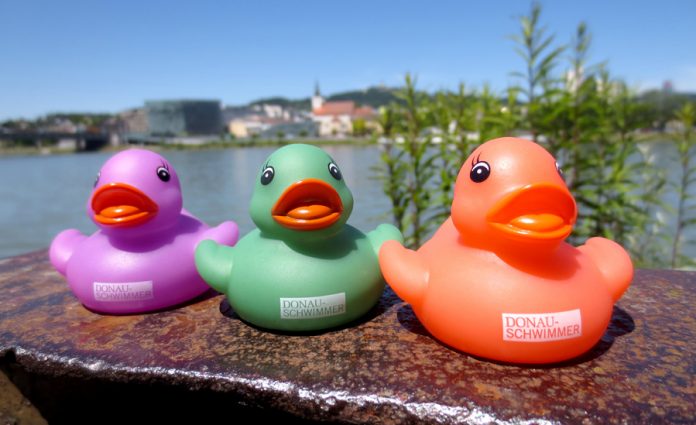 Linz.
In Linz, on the banks of the Danube, art and culture are going down the drain on purpose. Successfully so.
The Talk about sustainable eff ects of Linz' year as a cultural capital! The colourful rubber ducks, that change their colours according to the water's temperature, already became top sellers in 2009. And they are still very popular, so much so that the city's tourism information off ers them directly on their counters. But these are not the only positive consequences of 2009, Linz' year as a cultural capital.
Linz' clever cultural managers also successfully used the contacts they made in 2009 for other projects, both on a federal and on a global level. They also learnt how one goes about organising major cultural projects together in a professional way, or in other words, how to work across the boundaries of selfconfident individual institutions without throwing a spanner in the works. This is something that some other cultural institutions, such as the Vienna-based Bundesmuseen can only dream of – in spite of the white paper they have just published.
Walter Putschögl, former director of Linz09, who is now the Upper-Austrian Landesmuseum's business manager, and Martin Sturm, long-standing director of OK-Centrum and Linz-based Kulturquartier, always  manage to arrange projects with a global reach and to also get the federal level to work for them a little bit. The most recent example of this is the project "Kulturplattform Donauraum – Kreative Orte des 21. Jahrhunderts.", which was presented a short time ago. Directed by the Federal Chancellor and supported quite generously by the EU and its means, a cultural platform was created out of fourteen countries that the Danube flows through. It does not come as a surprise that Linz successfully positioned itself at the centre of this project.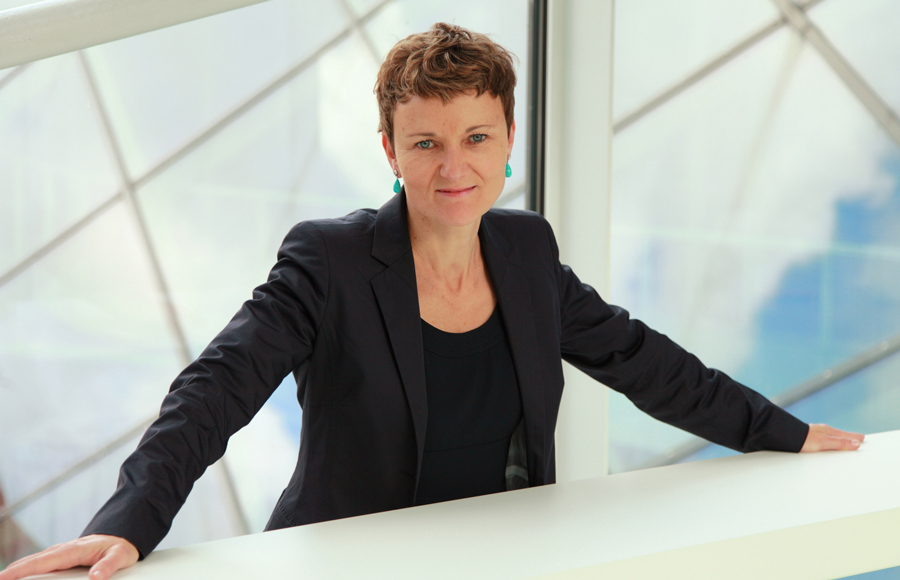 Another important project of Linz' major cultural institutions also revolves around the Danube: We are preparing a joint project for 2018 on the topic "Donau Art" ("Danube Art"). It all goes down at OK-Centrum, Lentos and Landesgalerie. The project focuses on questions about dealing with borders, going with the tide or against it. The project as a whole will be curated by external expert Elisabeth Schweeger. This is one example of an event where we work together on a general topic, but also pay attention to the project's individual parts and think about which of these parts fi t which institution.", states Gerda Ridler, cultural director of Upper-Austrian Landesmuseum.
While former Lentos' director Stella Rolig followed the Danube downstream, moving to Belvedere in Vienna, her successor Hemma Schmutz is just starting to get to know the circumstances of working in Linz and seems to be open for future projects with OK and Landesmuseum. "If there is a productive way of cooperating, I am open for it. I think that in Linz the circumstances for cooperations are good," says Hemma Schmutz.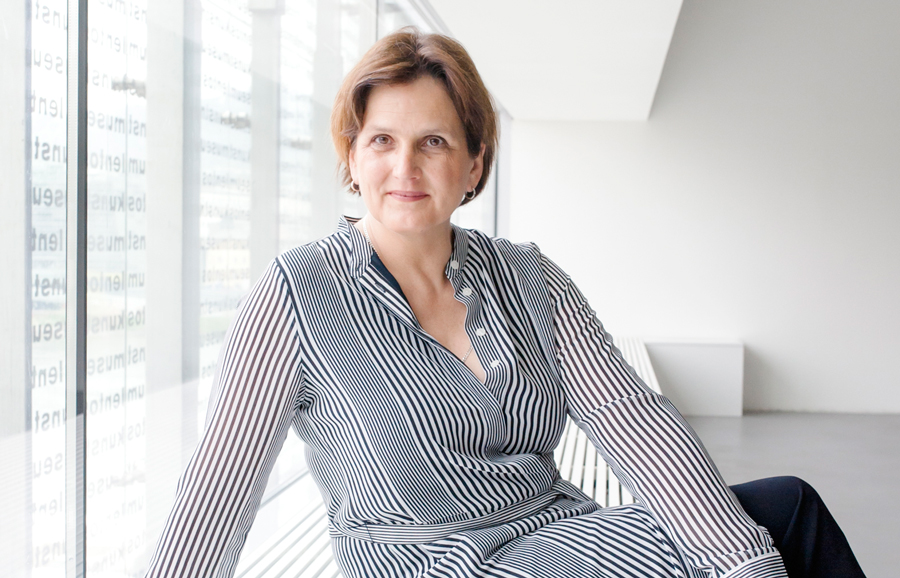 Lentos' new director has a lot of work to do. The replacement of Stella Rollig happened on short-term notice, which is why Hemma Schmutz did not have a lot of time to prepare for the upcoming season, the first season in which she is responsible. That's exactly why she is closely scrutinising the strengths of other cultural institutions in Linz. "OK-Centrum, for instance, has an interesting past as an open cultural institution, which was shaped by artists who produced their works on the spot. It offers interesting opportunities for the production of art. OK-Centrum has been creating an exciting programme of contemporary art for over a decade now. One of the reasons why this was possible was the fact that there was no immediate pressure from the audience."
Hemma Schmutz knows that she wants to draw on Lentos' specifi c strengths in order to build up her programme. When she took up this job, she only got a vague, broad task from political authorities. "For them it is important that Lentos' projects reach a high artistic level. However, at the same time it is vital to remember that we should not only cater to a small elite audience only. We should also try to have a more widespread impact." Hemma Schmutz, however, does not regard this as a duty to focus on famous artistic names that feature in rankings: "I think that there is a very large number of good and interesting artists in Austria. Rankings happen. They say something about artists' presence and the prices they have won. But I think it is wrong for a country to only show the rankings' three most expensive artists and have their works alternate everywhere. I oppose such a development."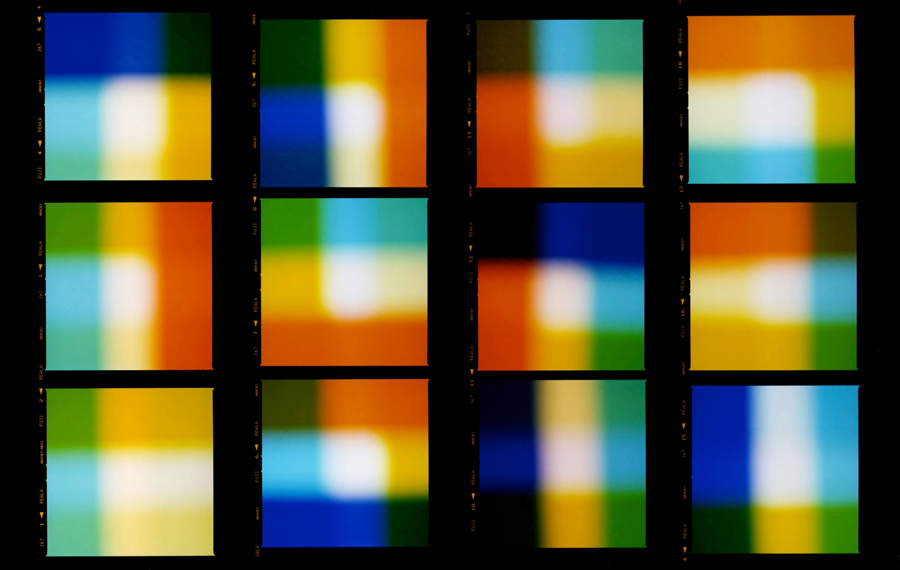 INFO

Lentos Kunstmuseum
Programm
www.lentos.at

ARNULF RAINER
Neue Arbeiten auf Papier
Bis 30. 7. 2017

PSYCHO DRAWING
Art brut und die ́60er und ́70er in Österreich
Bis 11. 6. 2017

MARKO LULIĆ
Futurology
30. 6. - 10. 9. 2017

TIME ́S UP
Bis 22. 10. 2017

STERNE
Kosmische Kunst von 1900 bis heute
29. 9. 2017 - 14. 1. 2018

VALIE EXPORT Archiv
10. 11. 2017 - 4. 2. 2018

DIE SAMMLUNG
Klassiker, Entdeckungen und neue Positionen
Sammlungspräsentation / Dauerausstellung

Zu schade für die Lade
Entdeckungen aus dem Grafikdepot
Dauerausstellung



Landesgalerie Linz
Programm
www.landesmuseum.at

Bauhaus – Beziehungen Oberösterreich
18.5. – 27.8. 2017

Herbert Bayer – Sepp Maltan: Italienische Reise
18.5. – 27.8. 2017

Linzer Kunstsalon und Designsalon
16.9. – 17.9. 2017

Spielraum. Kunst die sich verändern lässt
5.10. 2017 – 14.1. 2018