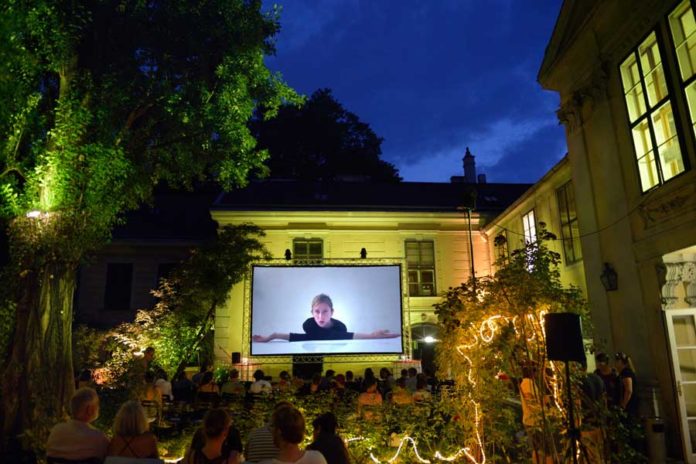 03.07. – 24.08.2018; Vienna.
Barrier-free open-air cinema hits the spot: We're in this together now!
Just imagine, your bare toes dig through fresh grass, a gentle summer breeze carries away the soft murmurs while slowly the darkness of the approaching night sattles over you. Suddenly light falls onto the pop-up cinema screen, silence spreads. One or two courageous bats flitter quiet as a shadow over the screen.
For a short while the chirping of crickets and the rustle of poplars are the only sound to be heard but only until the movie sound directs all attention to the screen.
With their selection of risk-taking, uncomfortable, vibrant, inspirational, moving short film formats, in condensation of unusual perspectives on the world, Lisa Mai, festival director and her team, open up new room for infinite conversation potential.
Films Alone make no Film Festival. Film Festival are all People who participate and by doing so shape it.
24 film screenings with about 150 short films are on the program. Film discussions following the projections, workshops, concerts, parties and interventions in the public space enrich the program and invite to discuss, to love, to argue, to intervene, to dance and to celebrate. Every week there are barrier-free (barriereFREItage) days for deaf and people hard of hearing and the dotdotdot 4plus for people ages 4 and up.
Only those who can watch movies together can also talk about movies together. A  »Cinema for everyone« has to come – independent of individual ability, ethnical as well as social origin, sex or age. An Utopia?
As the first film festival in Austria – imitation expressly desired! – dotdotdot focuses on inclusive strategies to bring people of different generations, people with and without disabilities and people with and without budgets to the cinema together. Accessibility is therefore not utopian, but its implementation requires concrete concepts and involves many small steps.
Hard Facts about the barrier-free festival:
Friday is barrier-free-friday! For deaf and people hard of hearing. The open-air cinema as well as the great hall are equipped with an inductive sound system which is also in operation on other days of the week. Subtitles (HoH) in german are on and the film talks will be translated into Austrian sign language.
Workshops for all! People no matter the age or the disability are invited to participate.
The ticket fee is freely selectable: Pay as you can!
dotdotdot
03.07. – 24.08.2018
Volkskundemuseum Wien
Laudongasse 15–19
1080 Vienna
www.dotdotdot.at
03.07.2018 | 17.00 | Festival kickoff: summer festival
05.07.2018 | 20.00 | Festival opening: Person to Person *barrier-free
24.08.2018 | 20.30 | Award cereniby & festival finale
________________________________________________________________________
06.07.2018 | 17.00 | Installation: "Am Anfang war ich sehr verliebt … 40 Jahre Wiener Frauehäuser"
06.07.2018 | 20.00 | Installation: Music Track: Fraufeld
06.07.2018 | 21.00 | Film: Missbrauch wird bestraft
12.07.2018 | 17.00 | Film 4+: Festival opening: 1, 2, 3, wie Zauberei *barrierefrei
12.07.2018 | 21.30 | Film: Cat Video Festival: Animated Cats
12.07.2018 | 21.30 | Bonus Track: #Klappeauf
13.07.2018 | 21.30 | Christina Perschon: Visual Mothers
19.07.2018 | 17.00 | Film 4+: Drachen haben viel zu lachen
19.07.2018 | 21.30 | Film: Go Forward, never look back
20.07.2018 | 21.30 | Film: Liebe, Vielleicht *barrier-free
26.07.2018 | 17.00 | Film 4+: Filme + Konzert: Bim Bam Boom Rhythmus Safari
26.07.2018 | 21.30 | Film: Signe Baumane: Treat Beat of Sex
27.07.2018 | 21.30 | Film: Tricky Woman: Every Body Beautiful *barrier-free
02.08.2018 | 17.00 | Film 4+: Schuhu, Schuhu, wovon träumst du?
02.08.2018 | 21.30 | Film: Pussy Have The Power
03.08.2018 | 21.30 | Film: Fiona Rukschcio: < common places 2 > (Wien Premiere) *barrier-free
09.08.2018 | 17.00 | Film 4+: Für Hund und Katz ist auch noch Platz
09.08.2018 | 21.30 | Film: A perfect me, a perfect you
08.08.2018 | 21.30 | Film: Das erste und das letzte Mal *barrier-free
16.08.2018 | 17.00 | Film 4+: Haltet den Keks
16.08.2018 | 20.30 | Film: Christoph Schwarz: Fake it till you make it
17.08.2018 | 20.30 | Film: Am Anfang war ich sehr verliebt *barrier-free
23.08.2018 | 17.00 | Film 4+: Aha! Oho! Ein Grüffelo!
23.08.2018 | 20.30 | Film: Christoph Schwarz: This Time for Real
23.08.2018 | 22.00 | Event: Konzert: 3 Knaben Schwarz
24.08.2018 | 21.30 | Festival finale: The Future is Female! Pynk Muvis *barrier-free