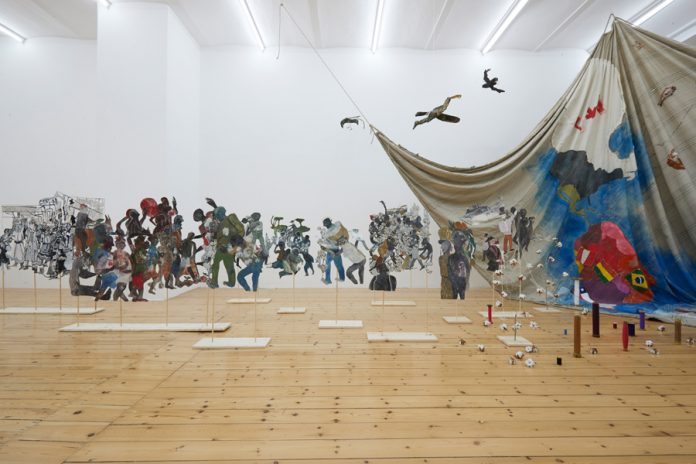 26.07. – 04.11.2018; Salzburg.
Trade routes, slavery and the consequences on cotton sails.
Sabine Breitwieser, curator of the exhibition, presents works of Anna Boghiguian. The Egyptian-Canadian artist of Armenian origin pursues in her work the formation of historic trade routes through the Mediterranean region. Beginning in the ancient times with salt and cotton trades, over the global traces of colonialism and slavery till today.
Boghiguian sees herself as a nomad. She lives between different cities across the globe. In her works she connects history with its consequences and with situations in our present.
Anna Boghiguian creates out of  cotton sails, boats, found objects and natural materials such as sand and bee honeycombs installations that are rich in detail. With the rugged yet poetic subjects of her drawings, paintings, photo collages, reverse glass paintings and theatrical figure formations from paper cut, Boghiguian tells of the complexity of historical facts and human thinking, acting and feeling.
Anna Boghiguian
26.07. – 04.11.2018
at the Atrium until 22.07.2019
Museum der Moderne Salzburg
Wiener Philharmoniker Gasse 9
5020 Salzburg
www.museumdermoderne.at