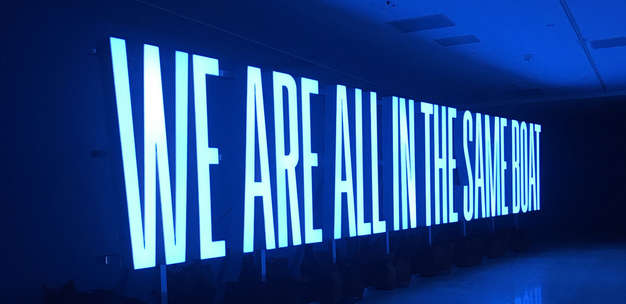 Softopening on 14.12.21 – 13.03.2022.
The Danish artist group Superflex will implement five projects in Graz between 2017 and 2021. The final exhibition in 2021 will be entitled Sometimes As A Fog, Sometimes As A Tsunami. Showcasing a selection of new as well as existing works, it takes aim at capitalist economics as a dissolving factor in our realities, as a fluid form that invades people's lives, every corner of our reality.
In 2017, Superflex launched C.R.E.A.M., the fetish bank machine in the heart of the Kunsthaus foyer. In 2018, SUPERFLEX realized Free Shop in Graz, followed by Number of Visitors in 2019 and Lost Money in 2020. These projects are dedicated to the fetishization of money, the rigid rules of economic societies, and the reversal of monetary transactions, respectively.
Superflex
Softopening on 14.12.21 – 13.03.2022
Kunsthaus Graz
Lendkai 1
8020 Graz
www.museum-joanneum.at